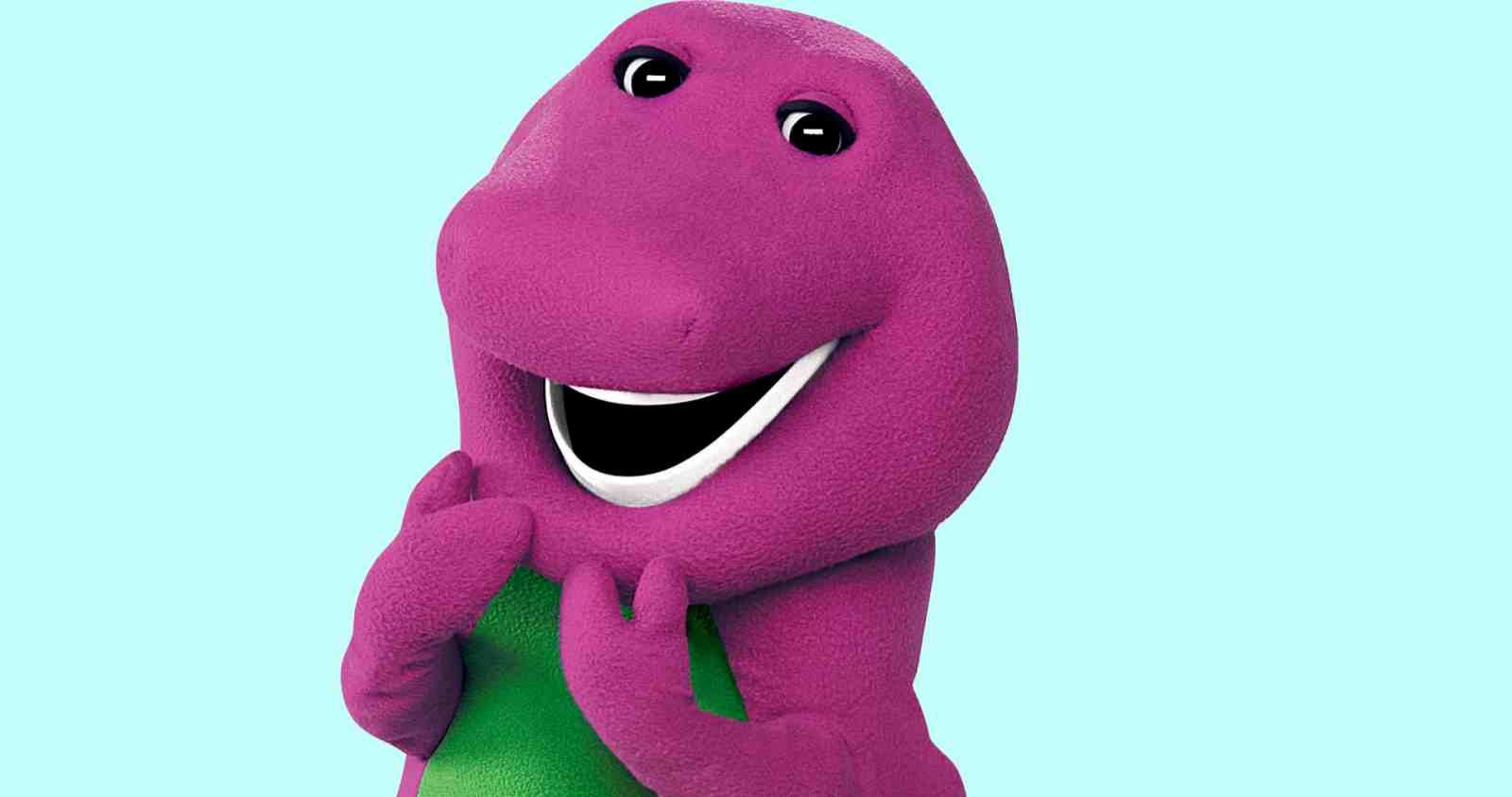 A three-part documentary delving into the history of Barney the purple dinosaur is heading to Peacock in 2022.
In a bit of news that just might get that "I Love You" song stuck in your head, Barney the Dinosaur will be explored in an upcoming documentary series about the iconic children's character. Set for a premiere on Peacock in 2022, the docuseries will consist of three parts and has already begun production. It's said to examine the "rock star-like trajectory of Barney the Dinosaur, the beloved character who captured the hearts of millions of children and then became the target of hate and rage across pop culture, the early internet and playgrounds around the world."
"Barney the Dinosaur was a ubiquitous character for children and parents alike and we are thrilled to work with the Scout Productions team to bring this three-part series to Peacock," said Rod Aissa, EVP, Unscripted Content, NBCUniversal Television & Streaming, in a statement. "This documentary is bound to captivate audiences like Barney has over the years."
MOVIEWEB VIDEO OF THE DAY
The Barney docuseries will feature exclusive interviews and archival footage, offering first-hand accounts of the Barney phenomenon as told by various cast and crew members, along with its most outspoken critics. It comes from scout Productions, the team behind Queer Eye, Equal, and The Hype. Tommy Avallone (The Bill Murray Stories) is directing and executive producing with Scout's Rob Eric, David Collins, Michael Williams, Amy Goodman Kass, Joel Chiodi, and Raymond Esposito. Wendy Greene is co-executive producer and Trent Johnson is producing.
Barney the Dinosaur was popularized by the children's television series Barney & Friends, which premiered on PBS in 1992. It features a purple T-Rex educating children through song and dance routines coupled with an overly optimistic attitude. The long-running show stopped producing new episodes in 2010, though it remains watched by children to this day through its reruns. There have been talks in recent years of reviving the series with a new children's show.
Time will tell if that happens, though Daniel Kaluuya was reportedly attached to a Barney movie adaptation in association with Mattel Films at one point. Kaluuya was announced to be producing the movie with the studio, saying at the time, "Barney was a ubiquitous figure in many of our childhoods, then he disappeared into the shadows, left misunderstood. We're excited to explore this compelling modern-day hero and see if his message of 'I love you, you love me' can stand the test of time."
Robbie Brenner of Mattel Films added, "Working with Daniel Kaluuya will enable us to take a completely new approach to Barney that will surprise audiences and subvert expectations. The project will speak to the nostalgia of the brand in a way that will resonate with adults, while entertaining today's kids."
Even people who hadn't watched the show may remember its well-known song in which Barney sings to the children, "I love you, you love me." We can presume that this song will be played quite a bit in the upcoming documentary that will be streaming at Peacock, as well as this planned movie with Daniel Kaluuya. It will be bound to be stuck in your head, possibly for days if not longer, after your viewing, so be warned. This news comes to us from Deadline.
Golden Girls Spinoff The Golden Palace Starts Streaming on Hulu in January
Every episode of The Golden Palace will soon be available for streaming on Hulu.
Read Next
About The Author Jeremy Dick (4580 Articles Published)
Jeremy Dick has been writing for MovieWeb and Horror Geek Life for years, is the self-proclaimed biggest fan of Bob Saget, and doesn't particularly like talking about himself in the third person.