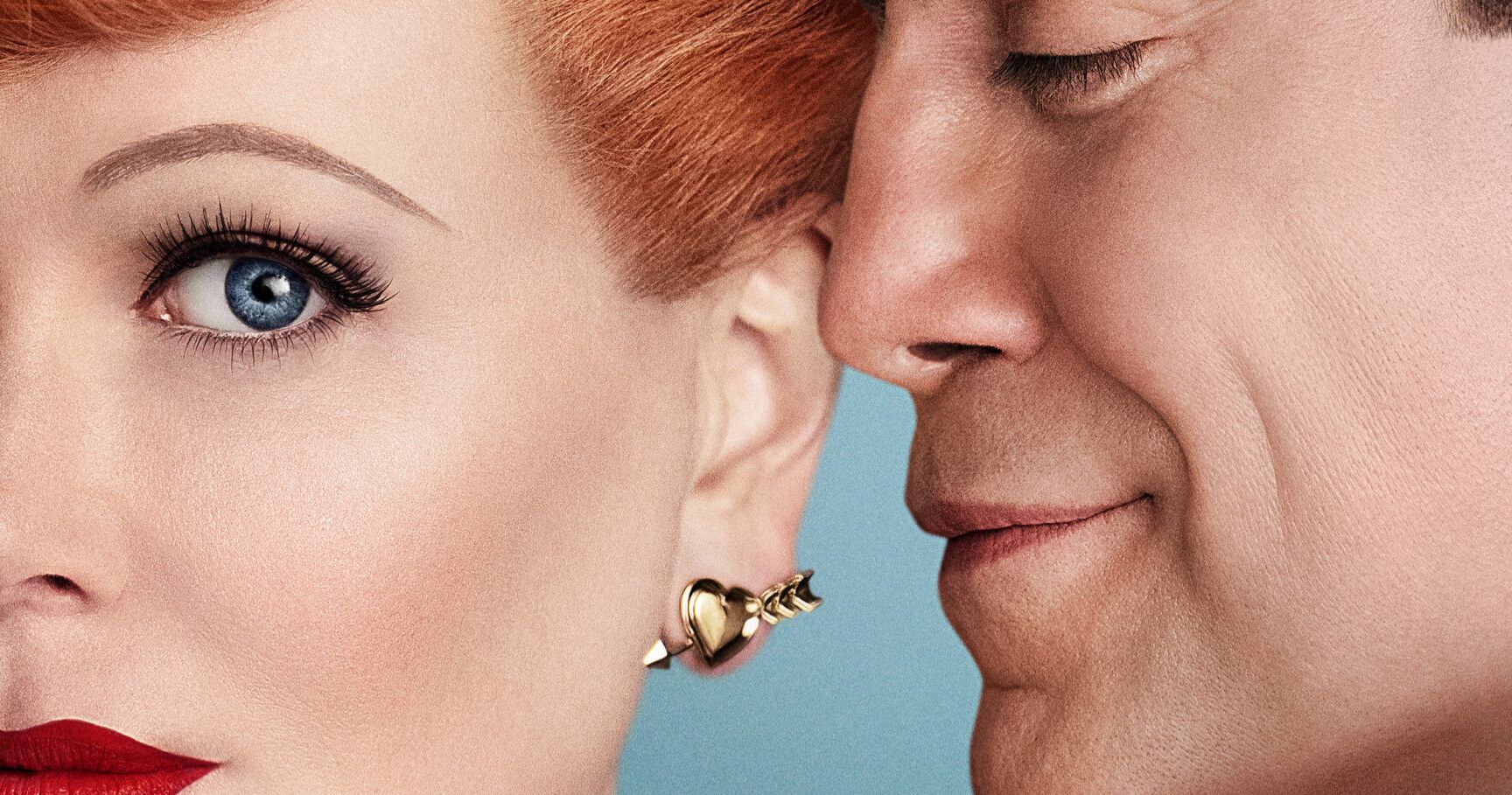 As the film nears, we'll take a deep dive into the couple's marriage and careers on the brink of collapse.
Nicole Kidman and Javier Bardem snuggle up close in the latest Being the Ricardos poster released from Amazon Studios. Lucie Arnaz gave the film her seal of approval, saying,"[Sorkin] made a great movie… He captured the essence of that time in their lives so well. He captured the heart of my mother and my father, their relationship. He captured the love between those players in the I Love Lucy show. The tension that was brought on in this particular week when all hell broke loose."
Kidman has been letting the audience in on her process to capture the essence of Lucille Ball. She wanted to make sure she nailed the powerful and iconic actress. Speaking of recreating the beloved I Love Lucy scenes, she says, "I studied them and learned them. It was my obsession to get it absolutely accurate. It was [writer/director Aaron Sorkin's] obsession to have this human being portrayed – what's behind the creation of Lucy Ricardo and who is the woman behind this character?"
MOVIEWEB VIDEO OF THE DAY
Lucille Ball was the queen of storytelling, and she spoke of the famous grapes-crushing screen on The Dick Cavett Show. She recalls, "[Tirelli] was told that there would be a fight, and it was also explained to her that there were times when my legs had to come up in this huge vat of real grapes. I slipped and when I slipped, I hit her, accidentally. And she took offense. So, she hauled off and let me have it … it took all the wind out of me. She kept me down by the throat," she added. "And she was choking me, and I am really beating her to get her off. I was drowning in these grapes. She was killing me."
Writer and director Aaron Sorkin addressed concerns that producers, fans, Debra Messing, and the actors themselves have had that Kidman and Bardem might have been miscast. "I'd make it very clear to them that I am not looking for a physical or vocal impersonation of these people," he told The Hollywood Reporter. "Leading up to the first rehearsal, I'd write to them every day, 'Just play the characters who are in the script.' I know that Nicole was working on Lucy's voice for a while, and I wanted to relieve her of that."
He continued, "As far as audience anticipation, that's something I'm just not worried about. I'm certain that when people see the movie, they'll leave feeling that Nicole has made a very solid case for herself, but moreover, I've found that you can really leverage low expectations."
Being the Ricardos was written and directed by Aaron Sorkin. Alongside Nicole Kidman and Javier Bardem, the cast also includes J. K. Simmons and Nina Arianda portraying William Frawley and Vivian Vance respectively, Tony Hale, Alia Shawkat, Jake Lacy, and Clark Gregg. There is also a documentary in the works, directed by Amy Poehler and produced by Ron Howard that takes a deep dive starting from the very beginning. Catch Being the Ricardos in theaters December 10 and on Prime Video December 21.
Henry Cavill Is Waiting For The 'Call' To Return As Superman
The actor was roped in to play the eponymous Man of Steel in the DCEU but has since fallen short of reprisal in his character-centered sequel.
Read Next
About The Author Brandy Lynn Sebren (499 Articles Published)
I'm the one that speaks in random movie dialogue. I almost always miss contact on high-fives. For years, I have been writing, speaking at length, and thanking the gods that my shocking encyclopedic knowledge of music, film and TV has proven valuable. Most commonly asked question? "Why do you know that?"