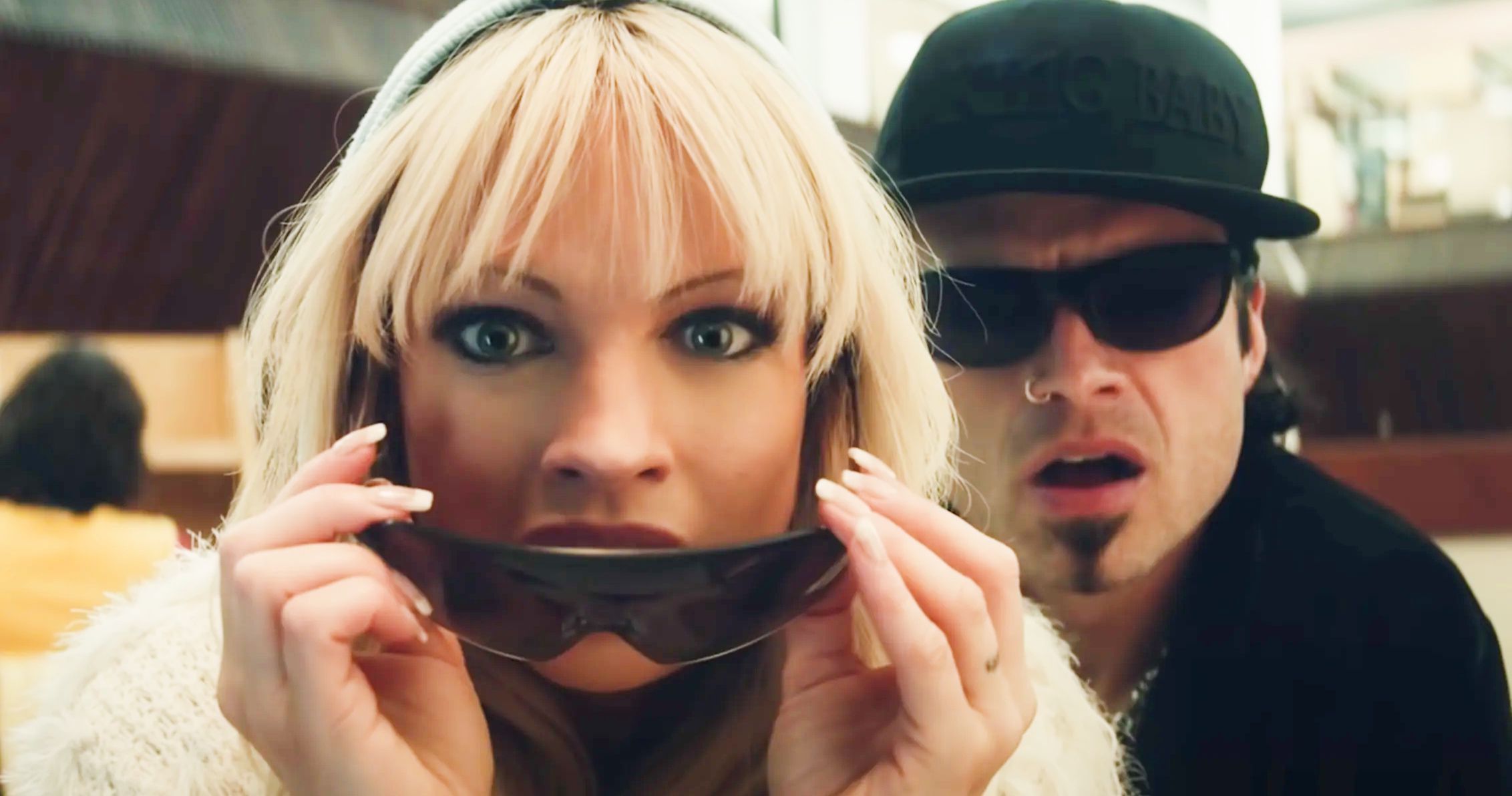 Sebastian Stan and Lily James transform into Pamela Anderson and Tommy Lee in the first trailer for Hulu's upcoming Pam & Tommy.
We have seen plenty of teasing stills and behind the scenes images of the upcoming Hulu series Pam & Tommy, with stars Lily James and Sebastian Stan posting frequent shots on their social media accounts of themselves in character, and now we have an official trailer for the show that will debut in February 2022. The footage give a first look at the pair in action as they bring the story of the couple to screens in the mini-series that will air its first three episodes together before releasing subsequent episodes on a weekly basis.
The series focuses on a specific period to the couple's relationship, following their marriage through the aftermath of the release of their unauthorised sex tape from their honeymoon. The infamous tape made headlines in the 1990s, and while it did not do any long lasting harm to either of their careers, the media attention around the couple was intense and the effect it had on their marriage is what will be the central point of the series.
MOVIEWEB VIDEO OF THE DAY
Directed by Craig Gillespie, who also helmed Disney's Cruella and the Margot Robbie led I, Tonya, the series features an all-star cast of Seth Rogen as Rand Gauthier, Nick Offerman as Uncle Miltie, and Taylor Schlling as Erica Gauthier, Pepi Sonuga as Melanie, Andrew Dice Clay as Butchie Spenser Granese as Steve Fasanella, Mozhan Marnò as Gail Chwatsky, Fred Hechinger as Seth Warshavsky, and Mike Seely as Hugh Hefner.
Speaking in previous interviews with ComicBook.com, Gillespie said, "We're four weeks in and Sebastian Stan and Lily James are just killing it. And you know, we've got Seth [Rogen] in there as well and Nick Offerman and it's a really, really crazy wild fun ride that ultimately, what I love about it is it's it has a lot of heart. Again, it has a very similar sensibility to I, Tonya where you get to go on this journey and understand, you know, the damage that was done to Pamela Anderson and that as an audience we're again complicit in this, because it's like, you know we devour all of this, without any repercussions for what's happening to the individuals. So it's sort of does this bait and switch in a way that was really exciting as well, but it's pretty out there."
"I don't know if I'm allowed to say when… I guess it's going to be early next year, I think," Gillespie added. "I'm so happy with how that turned out, and the performances from Sebastian [Stan] and Lily [James] are just amazing. It's been a great experience all around, and I'm excited for it, so hopefully people like it."
It is fair to say that Stan and James have been drumming up some early attention for the series, with both of them being more than happy to reveal their transformations into the iconic couple early in the production and give fans a real taste of what to expect from the series. The new trailer now brings the vivid characterizations to life and with the show premiering on February 2nd on Hulu, there is not much longer to wait to see it all play out on Hulu.
Harry Potter 20th Anniversary: Return to Hogwarts Poster Reunites the Wizarding World
Harry Potter 20th Anniversary: Return to Hogwarts is ringing in the New Year on HBO Max.
Read Next
About The Author

Anthony Lund (1303 Articles Published)
Anthony Lund is an author, songwriter and puppeteer from a small village in the U.K. with an avid love of all genres of TV and film. As well as keeping up with the lastest entertainment news and writing about it for MovieWeb, he works as a video editor, voice over artist and production designer. A child of the 80s, he is the owner of almost 2000 books, more toys than his children, three Warner Bros. Store Gremlins and a production used Howard The Duck movie script.