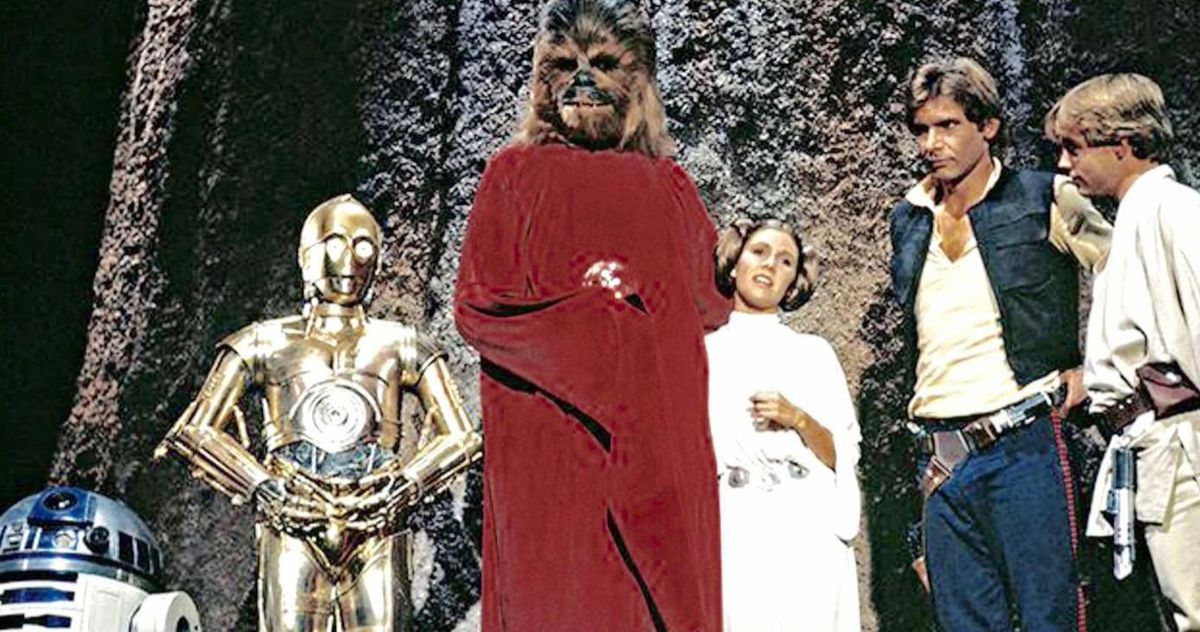 According to a study analyzing info pulled from IMDb reviews, the Star Wars Holiday Special is as bad as it gets when it comes to Christmas content.
A new study has given the The Star Wars Holiday Special the unfortunate honor of being named as the most "boring" of all Christmas movies, TV shows, and specials. Conducted by Uswitch, the study analyzed IMDb reviews for negative phrases to reveal which titles people apparently liked the least. Perhaps it's not much of a shock to franchise fans, but at the top of the list was the Star Wars Holiday Special.
"We've all heard of the epic multimedia franchise Star Wars that has flooded our screens from 1977 to the present day," the study reads. "With the first spin-off show, Star Wars Holiday Special, joining the franchise shortly after in 1978, we found that the fans were left nothing but disappointed as it ranks at the top of our list. Over ⅓ of the show's reviews included negative phrases also coupled with an embarrassing IMDB score of just 2.2/10."
MOVIEWEB VIDEO OF THE DAY
Going down the rest of the list making up the top ten, Grumpy Cat's Worst Christmas Ever falls into the No. 2 spot with its bad reviews cited. The Santa Clause 3 comes up at No. 3, named as the least favorite Christmas sequel ever. In order, the rest of the top 15 are Deck the Halls, Love the Coopers, The Perfect Holiday, Mixed Nuts, Surviving Christmas, A Christmas Prince, A Very Murray Christmas, The Nutcracker in 3D, Christmas with the Kranks, Four Christmases, Home Alone 3, and Fred Claus.
"With so many platforms constantly producing new content, it can be hard to decide what's going to be worth your time and what's best to avoid," says Max Beckett of Uswitch, explaining the service his company provides. "We now spend almost half of our lives in front of a screen, and as much as 21 hours a week consuming television. Therefore it can be useful to look at IMDb ratings to determine which TV shows and movies aren't worth tuning into to avoid disappointment. As streaming services become more accessible, the choice of content is growing. Ustream is our onsite tool that helps film fanatics and series lovers plan out their viewing calendar and understand which platforms are needed, or not needed which could save you money."
A variety of factors were included in the Most Boring TV Shows and Movies study. The most boring TV shows were calculated by collecting IMDb reviews for each film/TV show/Christmas special. These reviews were then analyzed for keywords including boring, disappointing, waste of time, predictable, worst, and mediocre. If a review contained one of these keywords, it was categorized as a 'boring review'. The percentage of boring reviews was then calculated by dividing the number of boring reviews by the total number of reviews collected. Movies with a higher percentage were classed as more boring than those with a lower percentage.
It's always worth noting that the reviewers don't always get it right, and there will be fans who may disagree with seeing some of the entries on this list. You can find out more information about the study at Uswitch.
Chris Columbus Confirms Robin Williams Wanted to Play Lupin in the Harry Potter Movies
Harry Potter and the Sorcerer's Stone director Chris Columbus had to personally tell Robin Williams he couldn't play Lupin.
Read Next
About The Author Jeremy Dick (4619 Articles Published)
Jeremy Dick has been writing for MovieWeb and Horror Geek Life for years, is the self-proclaimed biggest fan of Bob Saget, and doesn't particularly like talking about himself in the third person.