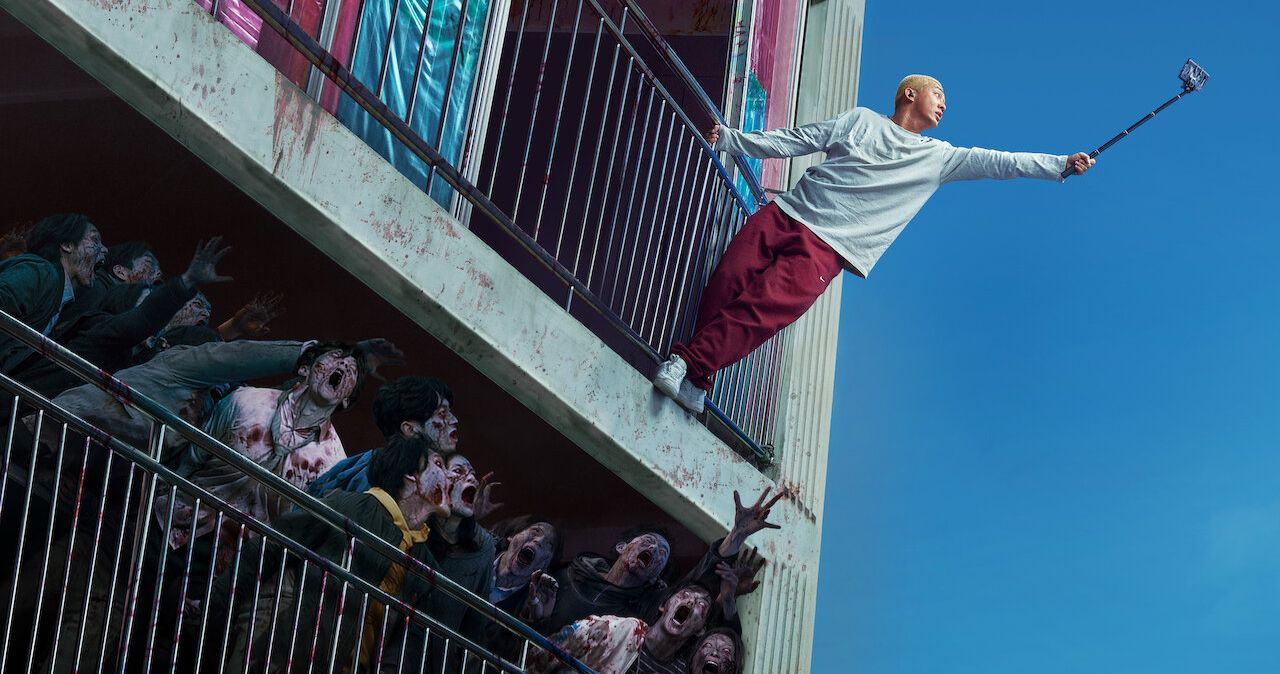 Following the release of Zack Snyder's Army of the Dead plus its spinoff, Netflix continues to offer a variety of critically acclaimed, gory flicks. Here's a closer look at the best of the best in its catalog of flesh-eating hits, as of November.
Zombie films date back to the 1930s and were of course popularized by the legendary George A. Romero through such classics as Night of the Living Dead. The zombie genre – or subgenre of horror, as some will argue – is still alive and kicking today.
Following the recent release of Zack Snyder's Army of the Dead and its spinoff, Netflix continues to offer a variety of critically acclaimed movies based around the undead. From action-packed thrill rides to darker turns leaving us pondering society, the gory brand of cinema has survived all these years thanks to a variety of filmmakers twisting the genre to make it their own. Here's a closer look at the best offerings currently on Netflix, with our list based on ratings and reception.
6 Atlantics (2019)
This supernatural romantic drama was selected to compete for the Palme d'Or at the 2019 Cannes Film Festival and has since received critical acclaim. The story of Atlantics centers around a young woman and her partner struggling in the face of employment, class, migration, crime, family struggles – and ghosts. Or are they zombies?
The mysterious illness caught by some of the characters is ultimately revealed as men formerly lost at sea now returning to take possession of Dakar's inhabitants on the Atlantic coast. While some may argue Atlantics isn't a "zombie film" in the strictest sense, director Mati Diop offers a mysterious examination of unquiet dead that more than secures it a spot on this list.
5 ParaNorman (2012)
Norman Babcock (voiced by Kodi Smit-McPhee from The Power of the Dog) never asked to see the ghosts of dead people in his daily life, but his strange talent is now the only thing standing between his cursed town and an all-out zombie apocalypse.
Delightful and relentlessly enjoyable, this animated tale is sharply written and made by – and for – horror fans. According to Laika, the animation studio behind the film, ParaNorman was the first stop-motion film to utilize a 3D color printer to create replacement faces for its puppets. More than 31,000 face parts were printed, according to Laika's website. Funny and thrilling all the way through, ParaNorman received positive reviews overall and performed well in the box office, earning a worldwide total of $107 million against its reported $60 million budget.
4 Cargo (2017)
The Outback serves as the unusually haunting backdrop to a zombie outbreak in Netflix's Cargo, which takes a restrained, character-driven approach to its apocalypse. It follows Andy (Martin Freeman, also terrific in Sherlock and The Hobbit), who must navigate the dangerous new normal of Australia's zombie-infested interior with his wife and infant daughter.
The post-apocalyptic horror drama film from Ben Howling and Yolanda Ramke was based on their 2013 short film of the same name. It received positive reviews from critics and was praised by all for its emotional depth and Freeman's performance. Some will argue the project is a nod to the 2009 film The Road starring Viggo Mortensen.
3 It Comes At Night (2017)
"Imagine the end of the world. Now imagine something worse," reads A24's description of its 2017 gem from Trey Edward. It Comes at Night centers on a teenaged boy (Kelvin Harrison, Jr.) as he grapples with mounting terrors in the aftermath of an unnamed infectious disease sweeping across the globe. His parents (played by Joel Edgerton and Carmen Ejogo) hide out at a remote house deep in the woods. The dad's paranoia fuels "It Comes at Night, and we'll watch most of this thriller through the hands covering our eyes. Though it disappointed initially at the U.S. box office, It Comes At Night was universally appreciated by critics and ultimately grossed $20 million against a $2.5 million budget.
2 #Alive (2020)
The recent zombie film out of South Korea revolves around a video game live streamer's struggle for survival as he is forced to stay alone at his Seoul apartment during a zombie apocalypse. As the grisly virus takes hold of the city, the streamer remains locked in his apartment, cut off from the world and with few options of escape but a dogged will to survive regardless.
#Alive premiered on Netflix in September 2020 and achieved global first place on the platform just two days later, going on to top the Netflix daily chart in 35 countries. It ultimately became the first Korean film to top the Netflix Movies Worldwide chart.
1 Army of the Dead (2021)
Zack Snyder delivered one of the great modern zombie movies in 2004 with his Dawn of the Dead remake. His grand return to zombie horror is suitably scaled up with Army of the Dead starring Dave Bautista, as it turns Vegas into a hive of undead depravity. The opening credits sequence (Snyder's specialty) presents this takeover as a series of slow-motion tableaux and sets up a promising franchise.
Critics praised the humor in the film, which became one of the most-watched original Netflix films with an estimated 75 million viewers. The film spawned the prequel Army of Thieves, the upcoming anime series Lost Vegas and a direct sequel titled Planet of the Dead, which is in development.
And Just Like That… Scrubs Chris Noth from Season 1 Finale
Mr. Big would have been featured in the finale of And Just Like That… if not for the allegations against Chris Noth.
Read Next
About The Author

Will Sayre (46 Articles Published)
Will Sayre is an evergreen writer at Movieweb.com. He has also written and produced entertainment stories at Spectrum News and Warner Bros. Television for the celebrity news program "EXTRA." Sayre graduated with honors from Boston University's College of Communication with a concentration in film and television. He also served as film critic at The Taft School in Connecticut.