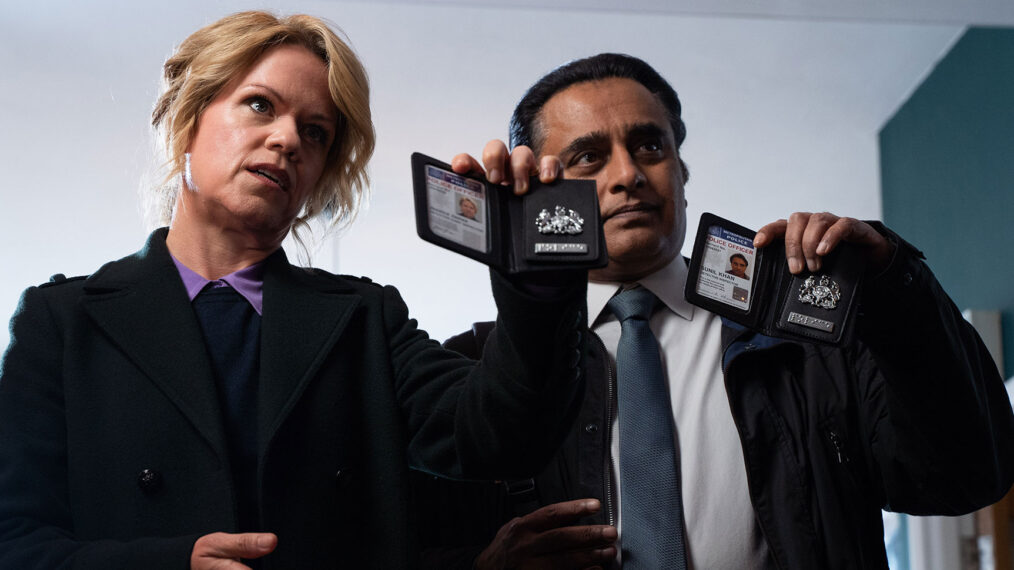 PBS
Unforgotten
SUNDAY: The first-rate Masterpiece mystery is all about the long shadow of memory haunting the suspects whenever a long-buried crime is unearthed. But in Season 5, the "historical murder" squad is dealing with its own grief, following the accidental death of team leader Cassie Stuart (Nicola Walker) nine months earlier. Her partner Sunny Khan (Sanjeev Bhaskar) isn't impressed with the chilly new boss, Jessica "Jessie" James (Sinéad Keenan)—but to be fair, her first day is clouded by a domestic meltdown at home. It will take time over the taut six-episode season, but investigating the tangled history of a body found stuffed in a London chimney could bring the detectives closer together.
PBS
Professor T
SUNDAY: Combine the OCD neuroses of Monk with the acerbic and arrogant intelligence of House, and you might get a facsimile of eccentric criminology professor Jasper Tempest (Ben Miller), who solves crimes in a quirky British mystery series, now in its second season. In the opener, Jasper grabs at any excuse to avoid overseeing oral exams—and a mysterious fire in student housing provides an outlet for his cunning insight. Less easy to solve are his own emotional and psychological issues, which is why he's turning to therapy. The final moments tease the arrival of Juliet Stevenson as Dr. Helena Goldberg.
PBS Masterpiece
Van der Valk
SUNDAY: When he's advised to take a tech-savvy rookie under his wing, Amsterdam's Commissaris Piet van der Valk (Marc Warren) grumbles, "I'm a detective, not a hen." Nonetheless, spunky young Citra Li (Django Chan-Reeves) comes in handy as the Masterpiece Mystery! series returns for a third season of two-part puzzles. Van der Valk and cool-under-pressure Inspector Lucianne Hassell (Maimie McCoy) also welcome another impulsive sergeant, Eddie Suleman (Azan Ahmed) to their team as they investigate the shooting of a celebrated free-running champion.
Dark Winds
SUNDAY: In the gripping Season 2 finale of the crime drama set on Arizona's Navajo reservation, psycho killer Colton Wolf (Nicholas Logan) has escaped again, but the person tribal police lieutenant Joe Leaphorn (the excellent Zahn McClarnon) is most interested in pursuing is whoever hired Wolf to cause the explosion that killed his son. Joe also knows that he may have to resort to "Indian justice" to get the rich and powerful to pay for their greedy misdeeds.
Luke Varley/Paramount+
Special Ops: Lioness
SUNDAY: Taylor Sheridan's international spy thriller ends its first season with a suspenseful climax on the exotic Mediterranean isle of Mallorca. Untested undercover Lioness agent Cruz (Laysla De Oliveira) is on her own, attending the wedding of her unwitting mark Aaliyah (Stephanie Nur), whose terrorist-funding father is her ultimate target. While the Lioness crew waits in a boat offshore to extract Cruz once her dark deed is done, team leader Jo (Zoe Saldaña) is distracted by family trauma back home, and her boss Kaitlyn (Nicole Kidman) is furious when the Powers That Be back in the White House situation room (including Morgan Freeman as the secretary of state) begin to get cold feet about the mission.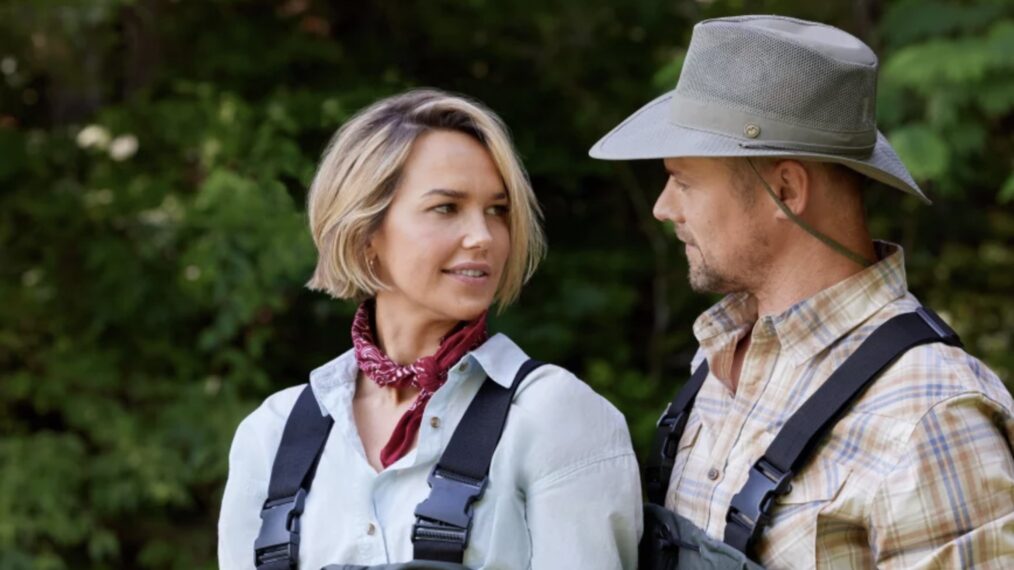 Hallmark
Love in the Great Smoky Mountains: A National Park Romance
SATURDAY: The official first day of autumn isn't until September 23, but that's of little matter to Hallmark, with its annual "Fall into Love' series of seasonal romances. (Hey, at least they're saving Christmas till later.) In the Smokies, two former lovebirds (Arielle Kebbel, Zach Roerig) find themselves competing for a research grant at an archeological dig inside the national park. What are the odds that what they really unearth is rekindled passion?
Great American Family
Learning to Love
SATURDAY: Not to be outdone, Hallmark's wholesome rival launches its second annual "Great American Autumn" movie series. First up: the emotional story of a widowed father (Philip Boyd) and his two daughters whose faith is restored by an upbeat nanny (Ina Barrón).
INSIDE WEEKEND TV:
Woody Woodpecker (Saturday, 8 am/7c, MeTV): The vintage cartoon, with more than 360 shorts produced from 1934 to 1972, joins the network's three-hour Saturday morning lineup.
Billions (Sunday, 8/7c, Showtime): Chuck (Paul Giamatti) tackles a case linked to Prince (Corey Stall) in his latest attempt to bring down the politically ambitious billionaire.
The Chosen (Sunday, 8/7c, The CW): In the religious drama's Season 1 finale, Jesus (Jonathan Roumie) leaves Capernaum for Samaria, meeting a suffering woman at Jacob's Well and declaring himself the Messiah.
Far Haven (Sunday, 8/7c, Cowboy Way Channel): Streaming on the Western-themed FAST channel, Longmire's Bailey Chase stars in a Western melodrama set in 1887 Arizona as unjustly jailed Hunter Braddock, who after being released takes on the bad guys who brutalized his father-in-law (Bruce Boxleitner). Co-stars include A Martinez, most recently the sheriff on Dark Winds, and The Karate Kid's Martin Kove.
The Real Housewives of Atlanta (Sunday, 8/7c, Bravo): The dust has barely settled from last week's finale, and Andy Cohen wastes no time in debriefing the drama queens in the first of a two-part reunion (concluding September 10).
Get This In Your Inbox Every Day
Subscribe to our Matt's Worth Watching newsletter: