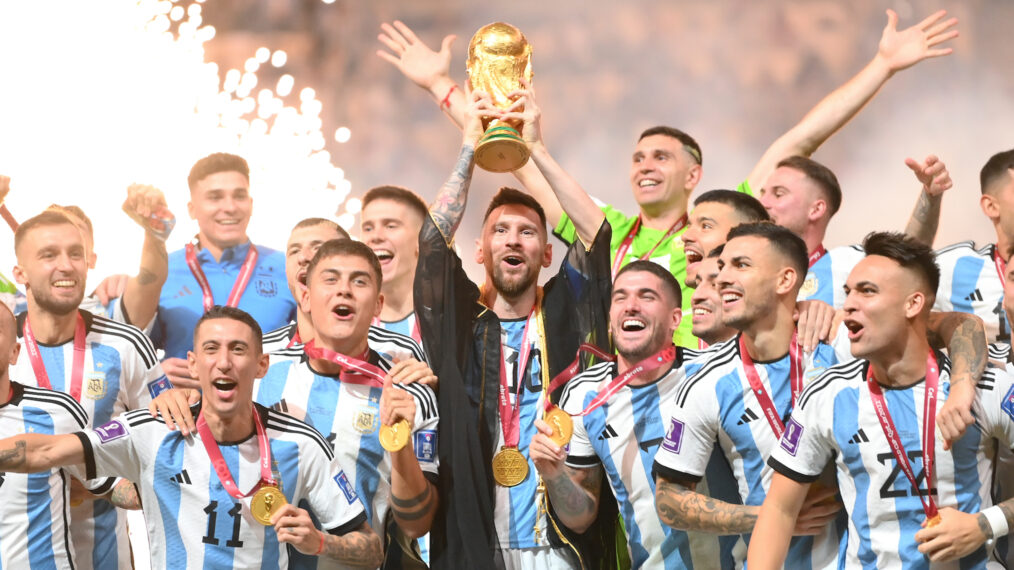 Argentina won its first World Cup in more than three and a half decades on Sunday, December 18, defeating defending champions France 4–2 on penalties at Lusail Stadium in Doha, Qatar.
As ESPN reports, Argentina's Lionel Messi and Angel Di Maria scored the first two points for Argentina, before France's Kylian Mbappe evened the score with two goals of his own. During extra time, Messi scored another point for Argentina, but again, Mbappe brought France back to a tie. And in the penalty shootout, Argentina's Gonzalo Montiel scored the winning kick of the match.
Argentina's victory this year — following its other two World Cup triumphs in 1978 and 1986 — means Messi has finally won FIFA's biggest prize in his record 26th World Cup match.
In a viral interview clip from early in the FIFA tournament, the 35-year-old grew emotional after Televisión Pública reporter Sofia Martinez told him that he has "made [his] mark in everyone's life" in Argentina.
Messi then said he has felt the kindness of his fans the entire time. "I believe this group was exemplary from start to finish, and hopefully, it all works out, but anything can happen in football," he added, per the New York Post. "And the good thing I believe is that us Argentinians have learned this, is that it's not just the result but the whole road traveled to get there."
Stateside, the 2022 World Cup — even with its many controversies — has been a ratings win for Fox Sports. The November 26 match between USA and England set the record for the most-watched men's soccer match on English-language U.S. television. As this year's World Cub continued, the USA team made it to the knockout rounds before losing to the Netherlands on December 3.