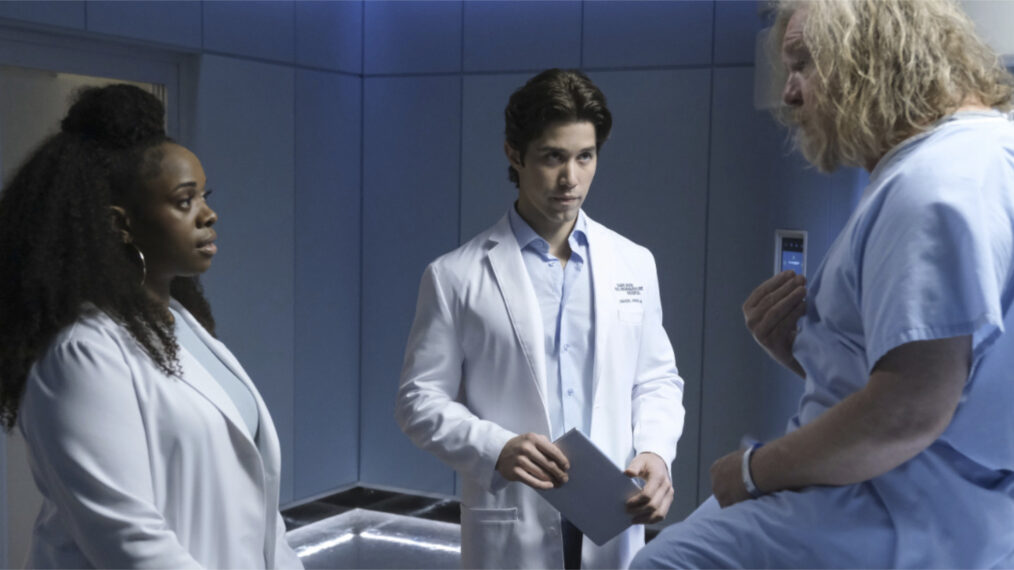 Brandon Larracuente is leaving The Good Doctor after just one season, but he won't be off your television screens for long: The actor has already booked a starring role in a new Prime Video series.
Larracuente joined The Good Doctor at the start of Season 6, playing Dr. Danny Perez on the ABC medical drama. As the season progressed, Perez became a love interest for Dr. Jordan Allen (Bria Samoné Henderson) but suffered an opioid addiction relapse and an overdose. A promo for the Season 6 finale — airing Monday, May 1, at 10/9c — shows Perez getting hit by a car while on the job.
Jeff Weddell/ABC
Deadline reports producers of The Good Doctor believe Perez's storyline has come to a natural conclusion. TVLine, meanwhile, reports Larracuente, whose other TV credits include Bloodline and 13 Reasons Why, could return as a guest star in the future.
Now Larracuente is set to star alongside Pretty Little Liars alum Troian Bellisario in On Call, a half-hour cop drama originally slated for Freevee but now on track for Prime Video. The show, created by Tim Walsh and Elliot Wolf, is the first streaming series from Wolf Entertainment, with veteran TV producer Dick Wolf, Elliot's father, on board as executive producer.
In the upcoming series, Bellisario will play Traci Harmon, a veteran training officer, and Larracuente will play Alex Diaz, her rookie ride-along, as the two cops "navigate the loss of a fellow officer and politics of modern day policing — in the department and on the streets of Long Beach," according to Deadline.
"Honored to be a part of this series," Larracuente wrote on Instagram on Friday, April 28, as he shared the On Call news. "It's a dream come true to pay homage to my folks, who are retired NYPD. This show is gritty, heart-wrenching, and real. I can't wait for you guys to see it."
The Good Doctor, Season 6 Finale, Monday, May 1, 10/9c, ABC