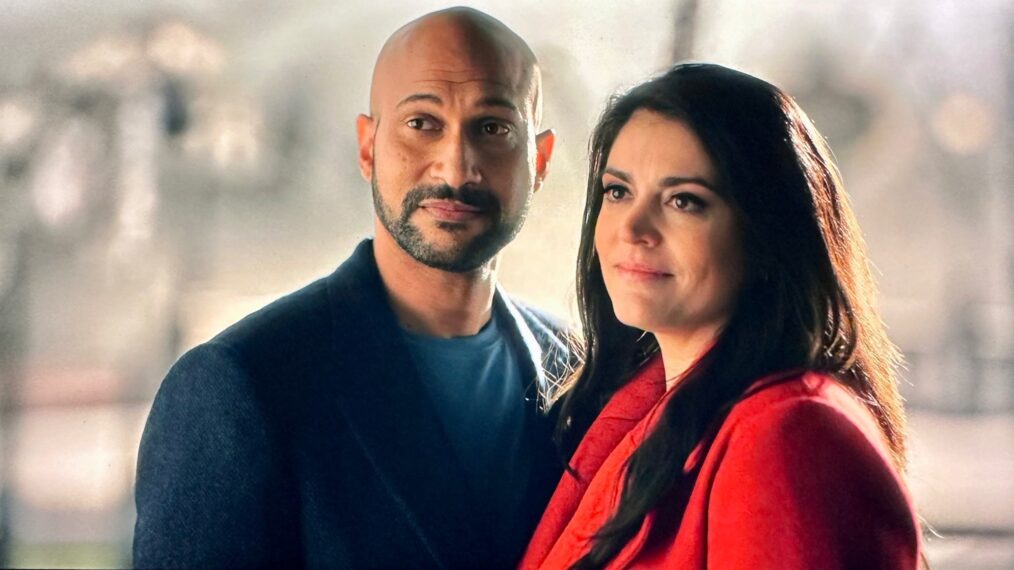 [Warning: The following contains MAJOR spoilers for Schmigadoon! Season 2.]
Schmigadoon! is a theater kid fever dream. Season 2 shows now-married couple Melissa and Josh (Cecily Strong and Keegan-Michael Key) in the seedy town of Schmicago, which is a total 180 from the golden age musical stylings of Season 1's locale.
This season honors the era of '60s and '70s musicals, namely the works of Stephen Sondheim, Bob Fosse/John Kander and Fred Ebb, Burt Bacharach, and Andrew Lloyd Webber. Creator and composer Cinco Paul is as much of a fan of their musicals as the viewers. And truly, only the encyclopedic knowledge of a theater lover could create a musical series as entertaining and intelligent as this.
TV Insider connected with Paul to discuss the bevy of Schmigadoon! Season 2 musical references. Here's the list of classic musicals referenced this season through melodies, lyrics, costumes, choreography, the works: Cabaret, Chicago, Pippin, Hair, Annie, Sweeney Todd: The Demon Barber of Fleet Street, A Chorus Line, Jesus Christ Superstar, Company, Oliver, Promises Promises, Sweet Charity, Dreamgirls, The Rocky Horror Picture Show, The Phantom of the Opera, and The Muppets Show.
These stories serve as the campy backdrop to Josh and Melissa's search for happiness. But how do these edgy shows with dark themes fit the narrative of finding true happiness? As Paul explains, "I sort of work backwards" when choosing the musicals for the seasons.
"I initially looked at all the musicals and thought, 'What's going on there?' And so many of them, there was no romance. It was all about individual journeys and a lot of unhappy endings or ambiguous endings," he continues. "It made me think, 'Oh, what if Josh and Melissa leave Schmigadoon, and they're feeling so pumped and happy because they got their happy ending, and then the real world sucks it out of them, and they want to go back, but you can never go back to Schmigadoon?' It was fun for me to think like, 'Oh, and then they have to find a happy ending in a world where there aren't happy endings.' That was really sort of when the light bulb went off for me, and I thought, 'Oh, that's what this season is about. It's about happiness.'"
Sondheim is one of Paul's biggest inspirations. Sadly, he never got to meet the legendary music man before his death in November 2021, nor did Bacharach — who died in February 2023 — get to hear the songs inspired by his work. But there are Broadway legends who tune in.
"It was so sad to me" that he never got to meet Sondheim, Paul says. "I don't know if he would've watched our show. He was not much of a TV watcher, I heard. But boy, I would've loved him to have heard some because that was the biggest challenge for me and sort of the honor, you know? He's the greatest of all time, and so I wish he could have heard these. I wish Burt Bacharach could have heard the song that's his."
6″But Stephen Schwartz [creator of Wicked and composer of Pippin] is with us," he adds. "He's a fan of the show, and I hear that Andrew Lloyd Webber [creator of The Phantom of the Opera, Cats, and Jesus Christ Superstar] is actually a fan of the show, so I'm excited for him to watch this season."
The Schmigadoon! Season 2 finale brought the story of Schmicago to a close on Wednesday, May 3. The soundtrack is out now for those eager for a reprise. Here, we're breaking down all of the song references of the season — the ones baked into the music and the score of their accompanying scenes.
Schmigadoon!, Season 2 Finale, Wednesday, May 3, Apple TV+