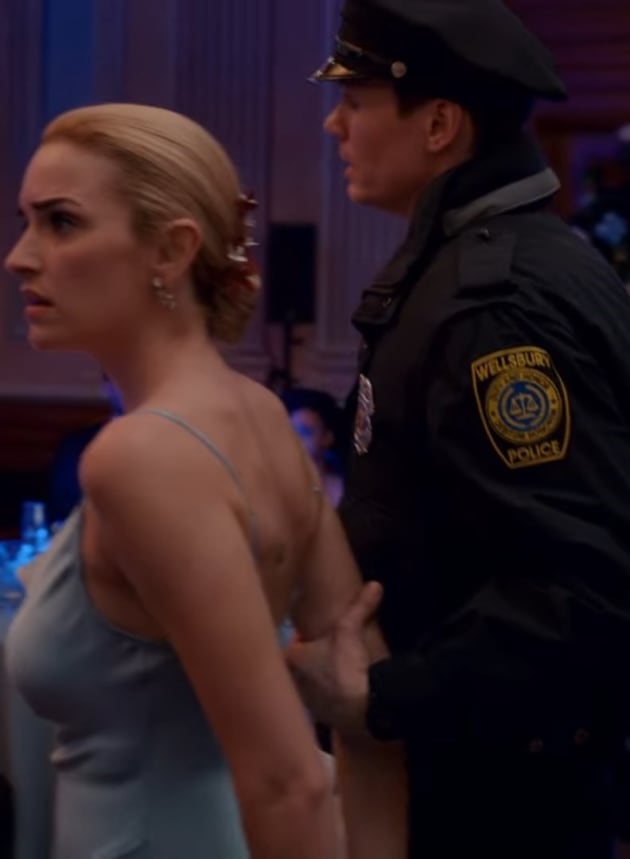 Almost every character was in the middle of a crisis on the shocking season finale.
On Ginny & Georgia Season 2 Episode 10, Gil threatened Georgia, so she swallowed her courage and confessed her past to Paul.
Almost all of the teens also dealt with identity crises too. That was part of the problem on Ginny & Georgia Season 2. It tried to pack too much in, and not everyone got enough time to shine.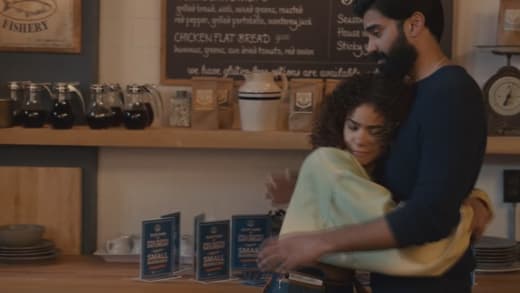 I wished they had focused more on Abby. As mentioned in my review of Ginny & Georgia Season 2 Episode 3, Abby seemed isolated during the MANG fight.
I'm your friend too. What the hell was that?

Abby
Throughout Ginny & Georgia Season 2, Press implied that Abby was overweight, but he was all she had, so she put up with it.
I worried he'd move from insulting comments to abusive as Gil did with young Georgia.
In many ways, Abby was like the female version of Marcus. She didn't believe she deserved any better and was a failure. That's dangerous.
Young girls often have sex to keep a guy interested or starve themselves or starve themselves so they'll be more desirable. No one is worth that.
Abby struggled with her parent's divorce and not having her parents' attention. If the series focused on some of these issues that other teens work with, it would shine even more.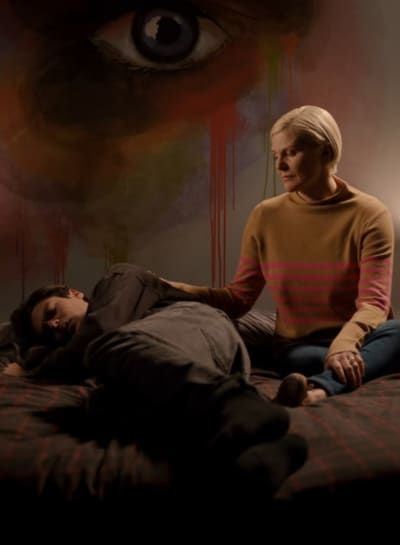 Teen depression and teen break-ups are hard. There is no quick fix for depression, even with medicine and support.
I found it interesting that the series tried medication for Marcus and therapy for Ginny. While Marcus doesn't reveal much, he needs to confide in someone.
He often let loose about his feelings when drunk to whoever would listen. Even Georgia tried to help, telling him she knew he was a good kid and loved Ginny.
Truthfully, neither Marcus nor Ginny needed the pressure of a romantic relationship but good friends who would support them through their moods.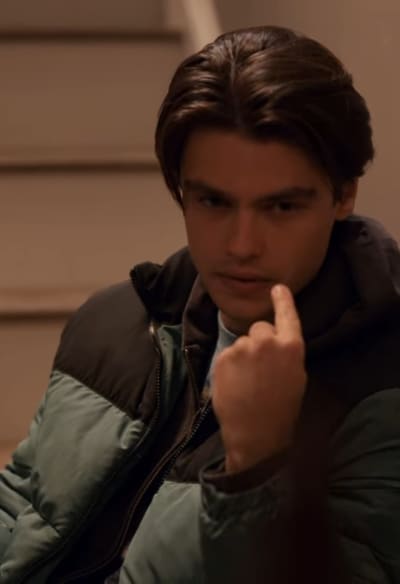 As mentioned in Ginny & Georgia Season 2 Episode 8, why did we have to watch Max mope over Sophie all season?
Thankfully, Max has grown up and realized that emotionally she couldn't handle the mind games Sophie played or being friends with her.
Yay, Max! She finally thought about what was best for her, continuing her relationship with Silver.
Hopefully, if we get a Season 3, we'll get the fun side of Max as their relationship develops.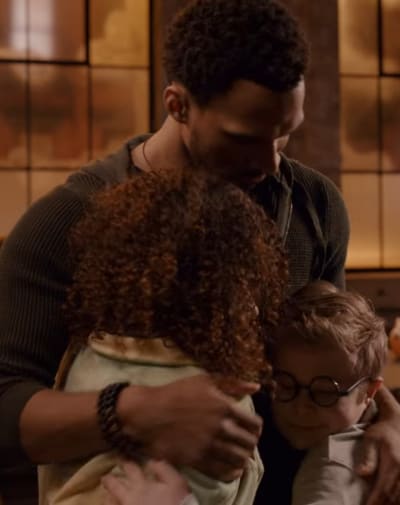 The kids were still traumatized from seeing Gil attack their mom. Children of abuse often act jumpy and skittish, and Zion knew something was wrong immediately.
I've mentioned repeatedly that I love Zion, and it's because he always made sure Austin felt cared for too.
Not every family has that where one parent will take both kids, but love isn't always about biology.
Austin will need other male figures since he refused to see his dad after what happened. Young boys need to see other men treat their moms with kindness. Both Zion and Paul have treated Georgia kindly.
Gil: You can't keep him from me! I have rights.
Georgia: Gil, I'm not doing anything. He's upset.
Gil: Then, you better talk to him or something, or I'll make your life hell.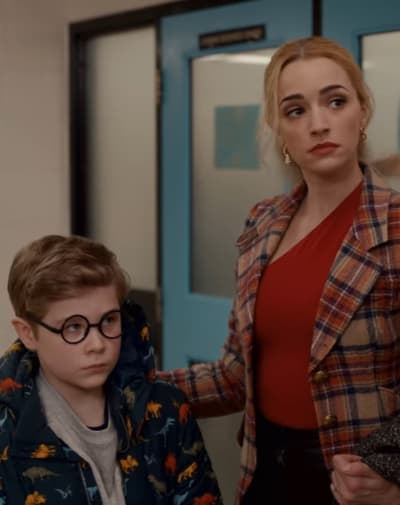 Having Gil be this mean and violent makes Georgia even more rootable. Watching him physically attack young Georgia made my stomach hurt.
I could understand why she was terrified to be pregnant by him and why she would do anything to get away from him, including framing him for embezzlement.
Gil still had the upper hand since he knew Georgia's past, and that had to stop if there was ever going to be any peace.
While Georgia was inclined to run away again since she didn't know if someone as ethical as Paul could handle her past, Ginny convinced her to confess.
Georgia: I'm not normal. I don't belong. I'm sorry, Peach, but I can't marry him. I'm just going to drag him down.
Ginny: Mom, Paul loves you.
Georgia: I told you. Love isn't enough.
Georgia had never trusted anyone the way she trusted Paul. She was risking her life and the kids' lives, and she knew she didn't deserve forgiveness.
Brianne Howey shined in Georgia's speech as she confessed every wrongdoing and lamented that she never got a happy ending. She portrayed every emotion, from regret to sadness to hope.
Paul: Why didn't I know about any of this until right now?
Georgia: Because you are literally the knight in shining armor I've dreamed about since I was a little girl. But Cinderella gets the prince and the happy ending, and I'm no Cinderella.
Paul's reaction showed what a stand-up guy he really was. While he was initially angry, I appreciated that he called in his legal team to ensure that Gil never bothered them again.
It didn't matter if he was angry with Georgia –no one would harm her or the kids. That statement to Gil won me over totally to Team Paul.
Gil: You don't realize the mistake you're making. You don't want to do all this for her. She's not worth it. Trust me.
Paul: From now on, if you want to see my stepson or speak to my wife, you do so through me.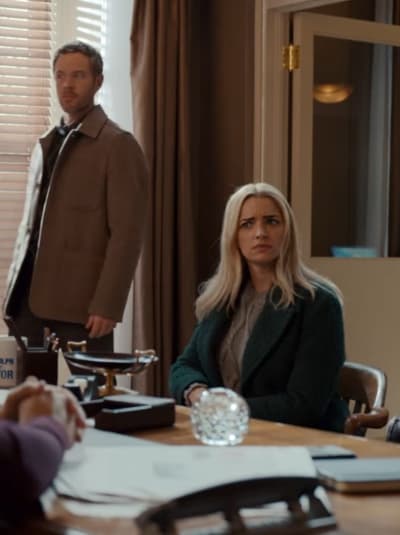 It took a village to plan the wedding that Georgia canceled. She finally realized how many people in town cared for her.
It was bittersweet that Joe lent them Milkshake for the wedding.
I almost thought he was giving up, but then I saw his reaction at the wedding.
Is a love triangle still brewing?
That was some cliffhanger, though. I had a sinking feeling when they had Georgia end Tom's suffering. Mercy killings never end well in the eyes of the law.
Poor Austin. He thought it was his fault Georgia got arrested because of what he witnessed in Ginny & Georgia Season 2 Episode 8 and Ginny & Georgia Season 2 Episode 9.
That kid will be even more traumatized and needs therapy just as much as Ginny now.
The series needs to be renewed to see how Georgia fights this and how the rest of the family copes with this news. What will happen to Austin since his mom is in jail? Does Paul or Zion have any legal rights over him? We don't want Gil getting his claws into that child.
It took longer for Ginny & Georgia Season 2 to develop. I enjoyed this season's second half better, as it kicked the mystery and mental health arcs into high gear.
What were your favorite storylines of this season?
What would you like to see in a potential Season 3? Let us know in the comments.
Ginny & Georgia Season 2 is streaming now on Netflix.
Laura Nowak is a staff writer for TV Fanatic. Follow her on Twitter.