The Hallmark Movies and Mysteries Channel often showcases strong women, and so many viewers were excited about this film, especially the visually impaired community.
She isn't pitied when Emily Main loses her eyesight in Guiding Emily. Instead, she's portrayed as a strong, capable female who can overcome this and become even more vital than she was before.
Sarah Drew as Emily was the film's highlight, but Eric McCormack voicing Garth's thoughts provided plenty of entertainment.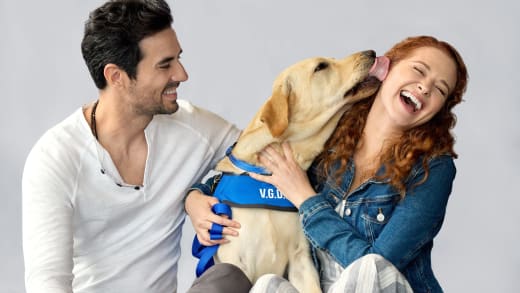 Guiding Emily is based on Barbara Hinske's best-selling novel by the same name. Scriptwriter Betsy Morris transformed that material into a subtle, emotional script where Emily realistically deals with her blindness.
It's not all gloom and doom, though, since Eric McCormack offers Garth's thoughts throughout on being a guide dog and his unrequited crush on Emily. From the second he sees her as a puppy, he's positive that he's her person.
I had just one question. What's a guide?

Garth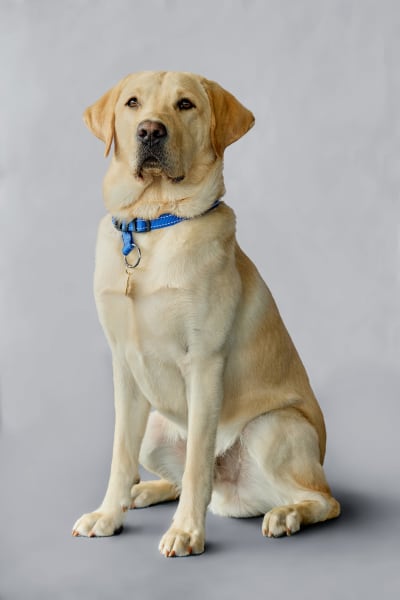 So often, we pity blind people or expect them to be like Helen Keller and have super talents.
Blind people are ordinary, capable people, which made this film refreshing.
When a freak accident took Emily's vision, Dr. Anderson initially thought it might return. That was one of the mistakes.
Emily's fiance believed since it was temporary, they didn't need to adapt their apartment, which made it difficult for Emily to find food, and she tripped over the couch.
Hearing her mom and Connor argue over caring for her only made her feel more like a burden, which blind or disabled people never want to be.
I know I need to do better. I don't see the point of rearranging everything when she'll be able to see again in a week or two.

Connor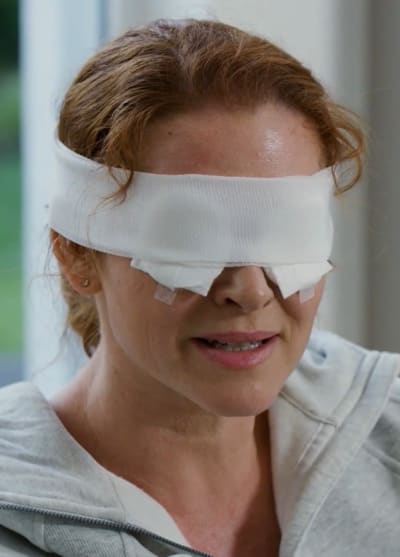 Tragedies teach us who we can or can't count on, and Connor didn't pass that test.
He seemed only too relieved to let Emily's mom look after Emily so he could return to work full-time and only visit on weekends.
Connor never understood Emily's fears and left her alone near the restrooms, causing her to have a panic attack when she couldn't find him.
Connor must have wanted an adventurous wife he could show off on his arm, not one he had to care for, since he soon accepted a promotion in Tokyo without considering Emily's feelings.
Connor: I couldn't say no.
Emily: You couldn't say no to your job, but you had no problem saying no to a future with me.
Sarah Drew portrayed Emily with such an emotional subtlety when the doctor removed Emily's bandages. Instead of becoming hysterical, a panicked horror passed over her face, and Emily's mom, Martha, tried to soothe her.
Emily soon learned who her real family was, including her mom, the little girl next door named Zoe, Drew and her work friends, and her oldest friend Matthew.
They led the charge and encouraged her to return to work and live again.
While initially, Emily wanted to stay in a funk, no one would let her. It made my heart burst that her work friends wouldn't let her quit and that Drew even researched the School For the Blind.
Like many newcomers, Emily was skeptical of attending the School for the Blind and didn't realize the owner, Julie, was also blind. That was the push Emily needed.
Emily: Do you think I could do that too?
Julie: I do because I did.
The first time Emily stumbled walking with her cane without help, Matthew wanted to jump in and help her. He had to learn she had to make mistakes to regain her independence.
Some of them, such as re-entering the wrong Uber, could have been scarier if it hadn't been an elderly lady in there instead. However, as Emily passed each step, she felt more confident in herself.
Along the way, she no longer needed Matthew's help as much and questioned why he was hanging around so much.
She never dreamed he actually liked taking walks on the beach with her or narrating black-and-white movies to her.
Matthew only cared about Emily and her improving herself. She finally looked happy.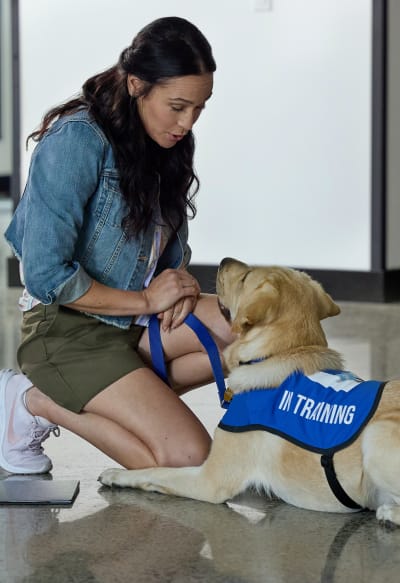 While we needed more awareness about guide dogs, the film didn't seem preachy. In many ways, Garth acted like any other rambunctious puppy that destroyed Katie's house until he learned commands.
He reveled in receiving praise and making her proud, whether by leaving other dogs alone, learning that skunks weren't friends, or following commands while at the medical center.
I hated when that untrained dog went after Garth and frightened him, and his owner pretended their dog was a service dog, too. That gave service dogs a bad name and only traumatized Garth.
Movies love to fake out audiences, so I thought for sure Garth was going to be Emily's guide dog when she and Matthew went to the center while Garth and Katie shared an emotional goodbye. Surely, they wouldn't have Garth lose two people.
It's okay, Garth. Time to go.

Katie
Dogs grow attached to people in ways we don't understand. Garth was convinced he was supposed to be Emily's guide dog, so he kept misbehaving so no one else would want him. He grew so depressed — until Mark finally figured it out.
Even though it seemed Garth had only recently met Emily, and they had so many accidental run-ins that he knew he was supposed to protect her. It was fate.
Fate also brought Matthew and Emily together. They had been friends forever, but he stuck by her and encouraged her to face her fears. Building her that Lego-sized rock-climbing wall allowed Emily to trust her instincts.
Emily could climb the indoor wall and hike hills and rocks again, along with Matthew and Garth, to cheer her on. With a few adaptations, she was just as strong as before the accident.
We're unsure yet whether this will be the first in a movie series, the beginning of a television series, or a one-off, but Barbara Hinske hinted that if the film gets enough views, she'd like to make it a TV series.
Emily's story sends a hopeful message to the audience, and four books are currently in her Guiding Emily series.
What were your favorite parts of the film?
What would you like to see in a potential sequel?
Tell us below.
Laura Nowak is a staff writer for TV Fanatic. Follow her on Twitter.