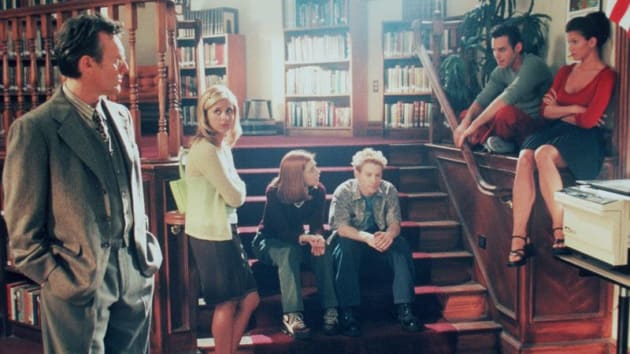 It's time we got the bastard.
The hunters finally found who they had been looking for on Hunters Season 2, Episode 6. Using Joe's knowledge of the compound, they infiltrated and captured him but not without some casualties.
Ruth became convinced that Meyer was a poser, but she still didn't know his true identity.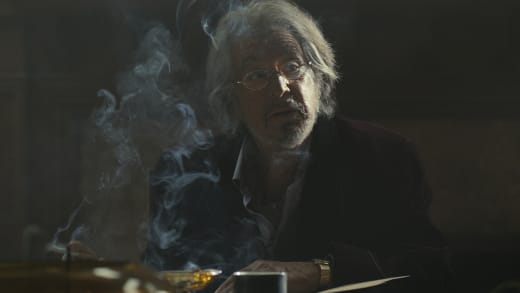 Roxy and Lonny rejoined the team after Roxy got treatment for her gunshot and scored a second chance at getting who they had been after.
The Colonel revealed her true intentions to Hitler, who didn't hesitate to shut her down.
The nature of Joe's help is something that any rational person would question. They didn't see what went through his head as he remembered who he was, so it was only fair that Millie and Harriet questioned it.
Harriet: I have a bad feeling about him. He's playing us like a fiddle. We can't trust him.
Millie: You think he let himself be captured intentionally? He shot Travis in the face. He's the only way we get to Hitler.
In case it hasn't sunk in, Joe had been a hunter dedicated to hunting Nazis. At some point, the Nazis captured him, brainwashed him, and got them to do their bidding. He had already murdered one hunter and shot another.
It wasn't that much of a stretch to think that he had been programmed to kill Travis if Hunters, fake being cornered them on their side, and deliver them to Hitler.
But as everyone was laying blame on his feet, Roxy, who had looked for him since they had gone separate ways, was the only one to recognize that Joe was not acting as his true self.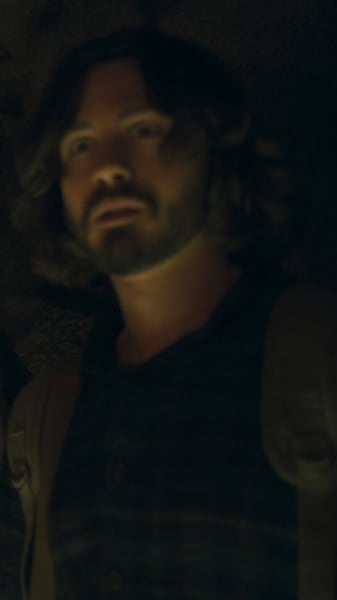 The beginnings of this group were through cheating and lying, and Joe, the first hunter, was here before them. They didn't strike a friendship as Roxy and Lonny did, or like Jonah and Millie with him, he must have felt like an outsider. Like a muscle, they only call upon when they need a battle fought.
It is wild to think that they never bothered to look for him even after they had learned that he had been missing. Only Roxy did. They don't have the right to question his allegiance. Not when they disappeared on him.
Millie: Can we trust you, Joe?
Joe: Trust me? They fucking abandoned me! They never even looked for me! And you're wondering if you can trust me?
Over at the Fuhrers, The Colonel was still making her play. If one were to make an educated guess, one'd rightly guess that she feels like she is owed something, and she might as well be.
She had been guiding Hitler during his reign of terror.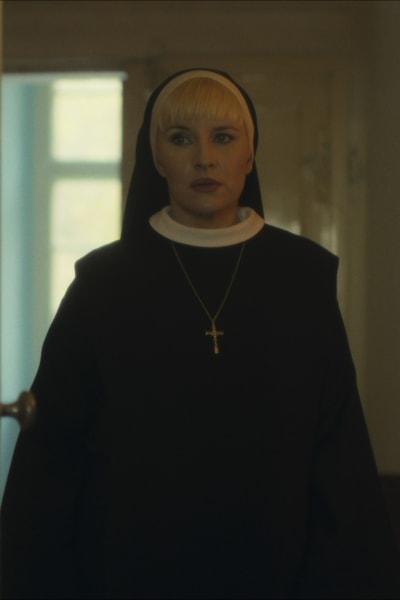 She protected him when he lost. She even tried raising the Reich again in America, although she failed. And now that he is old and dying, she feels it is her right to inherit his place after he dies.
But a man as selfish as Hitler can never let anyone enjoy the fame he has, let alone a woman. He would give it to a little boy before letting her have it.
In the past, Meyer was getting all his dirty work done by the Hunters, and when Sister Harriet came with the potential location of a new hunter, he felt like he'd won the lottery.
If another person was hunting down Nazis, it was only a matter of time before they had Meyer on their list. So why not find them first?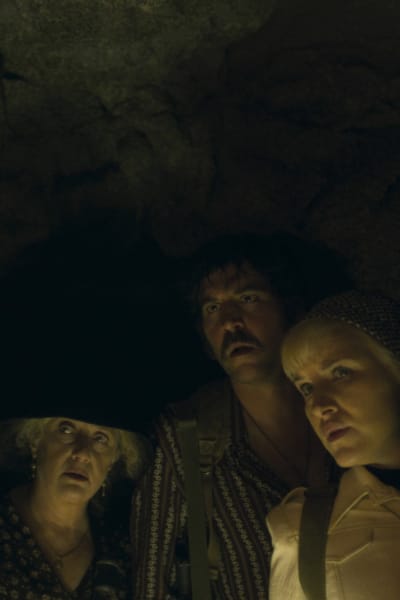 Things became a little complicated when Sister Harriet tagged along, and Chava turned out to be a badass.
It was also possible that he didn't feel threatened by her when she was far away, but if she had agreed to join Ruth, there is a pretty solid guess on what would have become of her.
Chava knew long ago that she was never leaving hunting, not when she was alive. Her story about the first hunter she ever met and the one she fell for highlights just how deep she is into it.
She was willing to leave the love of her life to continue with this.
She sacrificed her life to give Jonah a shot at getting Hitler; if she weren't dead, she would have said it was worth it.
Who said that Mindy was old and didn't have what it took anymore? Because they needed to see what she did with the hatch. Blew it up into tomorrow.
Chava: It's locked from the inside. How the fuck are we going to get in?
Mindy: I got this. A little bit of C-4 should do the trick. All right. Take cover. Cover your ears! Better safe than sorry!
I expected getting into Hitler's compound to be hard, but I didn't expect him to have a village full of Nazis surrounding his mansion. The hunters all gave their all and were rewarded accordingly because Jonah got him.
There was never anything that could be done to this man that would feel even remotely calming. Six million deaths would never be enough for me to feel satisfied that justice had been served.
The amount of suffering and death the world has seen on his account can never truly be quantified or avenged. The twisted racist rhetoric his writings and philosophy has inspired is being felt to this day forward.
Jonah would have shot him in the face, and it wouldn't feel like enough; he would have tortured him till kingdom come, and it would not have felt enough.
You don't deserve to choose how this ends. You need to be held accountable for the crimes that you've committed.

Jonah
Jonah didn't kill him on the spot because he had heard his fiancée. Maybe the legal system would not fail him this time. Maybe that would have been his final chance at redemption. Maybe he might be able to undo his newfound comfort with committing murder.
He felt like he had done something worthwhile when the spirits of those killed looked at him approvingly.
What did you think of the episode? Should Jonah have killed Hitler on the spot?
Hitler gets his day in court, and the trial never happened. 
Denis Kimathi is a staff writer for TV Fanatic. He has watched more dramas and comedies than he cares to remember. Catch him on social media obsessing over [excellent] past, current, and upcoming shows or going off about the politics of representation on TV. Follow him on Twitter.