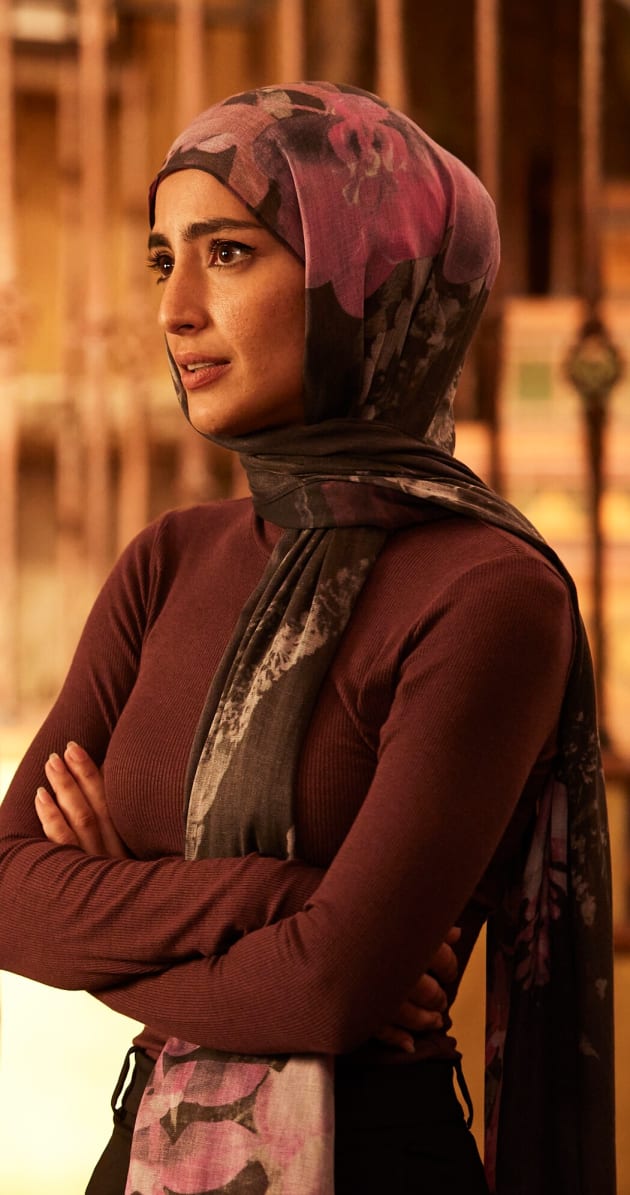 Arkady was back in all his dissembling glory, and that's never a bad thing.
He found himself in trouble yet again on NCIS: Los Angeles Season 14 Episode 9, only for once, it wasn't largely his fault.
Not that he was blameless, mind you. But he could actually be considered something of a victim this time around.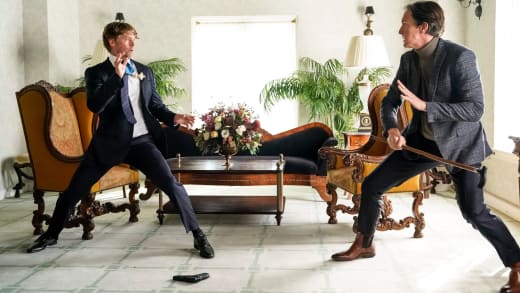 Before examining this latest chapter in the "retirement" of Arkady Kolchak, it's time for a brief scheduling rant.
What was CBS thinking about airing its first new episode in six weeks on the night before the much-ballyhooed NCIS crossover evening? Looking forward to Monday night, viewers were either caught off guard by this episode or missed it altogether.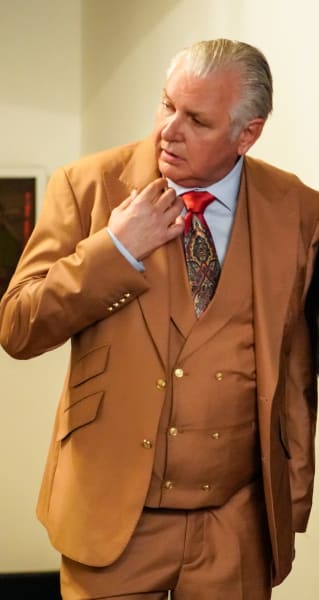 And that's a shame because Vyto Ruginis's layered portrayal of Arkady is always one of a season's highlights. This visit was no different.
This time out, viewers learned about the one that Arkady forever regretted letting get away. And she never forgave him for making that choice, taking her revenge for four decades.
Kensi nailed it early on when she guessed that the turmoil around Arkady was a mistake of his coming back to bite him in the ass.
It must be tough being Arkady, never knowing when one of your past actions would come back to haunt you.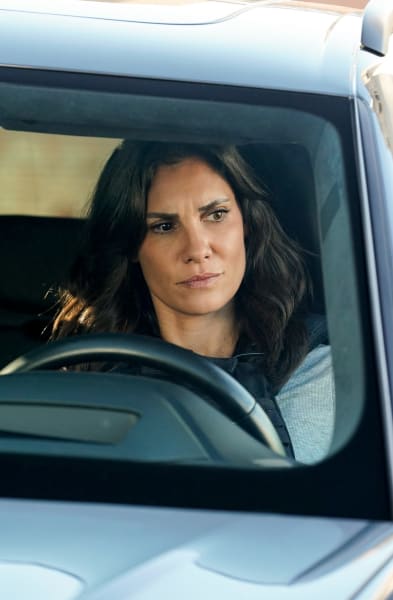 Miraslava Birisova would definitely qualify as one such circumstance. After a torrid romance, he left her behind in Malta. Yet it was evident by the glow on his face when he saw her on surveillance that he had never forgotten her.
It also was evident by how she attacked him in her hotel room that she had never forgiven him for his actions. But the true scope of how she dealt with her pain hadn't yet been revealed.
One problem with this episode was that Callen and/or Anna should also be present when Arkady is present.
Anna was dispatched with a couple of phone calls, which felt like cheating. 
Callen was initially tied up "in court," resulting in that delicious interaction between those two old cold warriors, Kilbride and Arkady, in a tiki bar, Arkady's safe house. While Arkady certainly understood Kilbride, the reverse wasn't the case.
Callen surfaced for a time, riding herd on Arkady's reunion with Mira and enjoying the punishment Arkady was receiving for his past misdeeds a little too much.
Then, after he got Mira to explain how she had implicated Arkady in her business deals and got her to spell out the concept of "blood banks," he disappeared again "on task-force duty."
Just when the narrative shifted from being a caper that entrapped Arkady to a worldwide crisis, Callen was gone, with Kensi, Deeks, Fatima, and Rountree left to clean up a mess that extended far beyond their scope. Yes, this episode got dark in a hurry, and the shift in tone was jarring.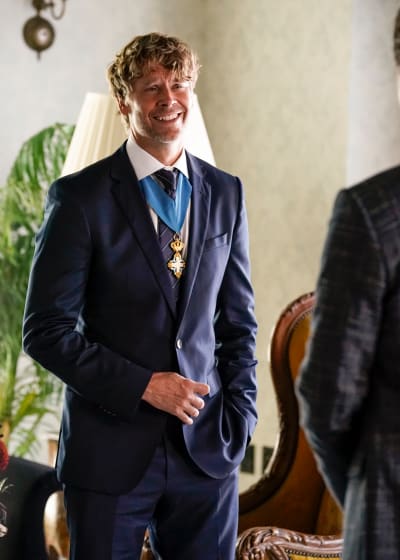 And it was amazing how the other governmental agencies refused OSP's request for assistance for fear of angering an unstable Putin while he was losing his war in Ukraine.
Why did anyone think Mira could be a trustworthy part of their scheme to infiltrate the suspect auction house? She had always put herself first and had nothing to gain by cooperating.
That whole plan was ill-conceived. Arkady should have been aware of every part of the process to get into Mira's box. And pretending that Deeks was a Swedish royal when he couldn't speak the language was idiotic. 
Poor Coster. All those weeks of babysitting hadn't prepared him for a charge who wanted to escape.
Fortunately, Mira's feelings for Arkady ran deeper than she realized, and she couldn't betray him, even if it were in her best interest.
When Mira set off the alarms, at least it caused the agents to understand that things had gone off the rails, and they finally moved into action.
Using priceless artifacts, Deeks, Kensi, and Rountree made quick work of a curator and a handful of Russian thugs. It was anticlimactic, but it got viewers to Arkady and Mira's bittersweet goodbye when she refused to run.
In the conclusion, why Mira was hanging on to a Beanie Baby made sense when Arkady discovered her expensive necklace inside. At least he would have something to remember her by.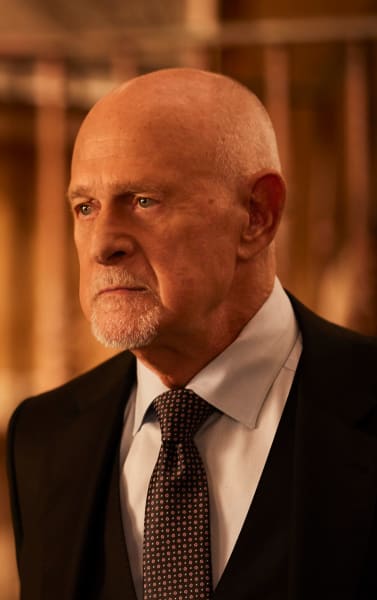 Maybe Arkady can find some way to bring Mira as his plus-one to Callen and Anna's wedding, which will likely be the season (series?) finale.
This episode offered little else in terms of storylines. Honestly, did Fatima and Rountree think they could put anything over on Kilbride? 
So they kept a notebook that documented their past absences. Like it wasn't likely that Kilbride hadn't heard every conceivable excuse during his decades in the military?
Still, it was fun to watch him torture them until he let them off the hook just before Fatima confessed. Was a fancy coffee drink worth all that stress?
It will be intriguing to see what if anything comes out of Fatima making a new Muslim friend. Might she be getting more back story or will this get dropped much as other past Fatima storylines, like her PTS, have?
To seek the best of Arkady, watch NCIS: Los Angeles online.
Were you pleased to see Arkady again?
Shouldn't Callen have been kept around?
Did you find the "blood banks" idea an interesting twist?
Comment below.
Dale McGarrigle is a staff writer for TV Fanatic. Follow him on Twitter.