Get your brushes ready, and your wigs snatched. It's time for a makeover!
The lovable makeover Maxi Challenge returned on RuPaul's Drag Race Season 15 Episode 13 to dish out fabulous looks for some unsung heroes: the teachers.
And in true makeover fashion, some queens captured the family resemblance while others failed to find a connection. Though, it was the strange judging choices that took center stage.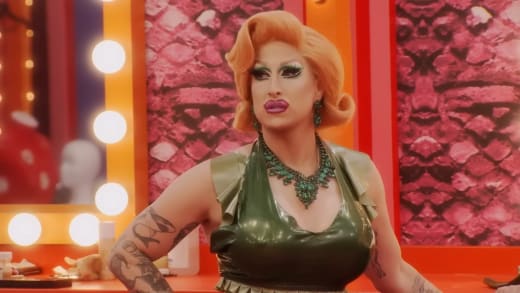 "Teacher Makeovers" was a heartwarming yet slow round for the competition. I'm grateful to have 90-minute episodes again, but with only five queens left, the pacing had a touch more filler this time.
Still, plenty of drama and great chemistry moments with the teachers balanced things out to make it a fun round.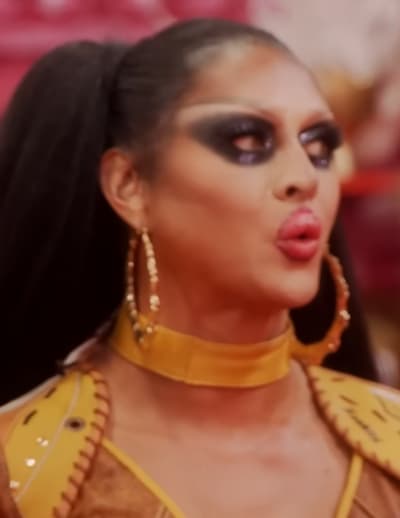 Firstly, the "Spill The T" Mini Challenge brought so much fun and light drama to the Werk Room.
It's always so scandalous whenever the queens are asked their true thoughts about one another. Let's not forget the infamous "Who should go home and why?" question that gets asked every year, like on RuPaul's Drag Race Season 15 Episode 12. It's a natural spark for chaos.
This Mini Challenge should return every year! It's easy to do, causes so much tension, and the queens open up quickly to the game.
And could you imagine if Loosey LaDuca wasn't there? Some of the harder-hitting questions would've cut down with the queens; specific answers were expected, but it was all exciting nonetheless.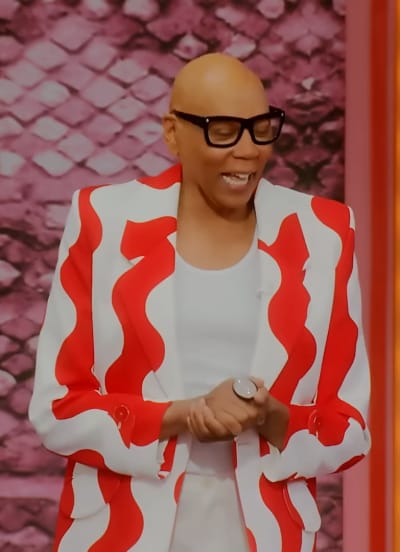 As the Mini Challenge winner, did Loosey sabotage Luxx Noir London with her teacher pairing? That was the big theory posed by Luxx when she got her teacher.
I think there was some form of sabotage here, whether intentional or not.
Loosey had to assign Luxx last based on the order, and she left her the teacher with zero resemblance to her. Plus, Loosey was more thoughtful with her teacher pairings for all the other queens; most of them looked like family members. Luxx's choice seemed very pointed.
[In confessional] The mirror message feels a little bit pointed right now. And a little bit salty. And by a little, I mean like a lot. Salina is a little upset with Loosey and why she chose her.

Anetra
It's surprising that Loosey didn't try to sabotage all of the queens by giving them strange choices.
The queens have reached the Top 5, and Loosey would need every help she could after having to lip-sync the previous round. It wouldn't have been a bad strategy for her to play more of the game, but if she made a petty move against Lux, I guess that was her payback against Luxx's runway comment.
Now for the drag makeovers, LaLa LaDuca (Loosey's teacher) looked exactly like her. From the hair to the makeup to the outfits, everything seemed to be a good cohesion between them.
LaLa and Loosey seemed like a real family.
I agreed with the judges that the red heels should've been stoned. Since Loosey's heels were stoned gold, having LaLa's heels look more like the ruby slippers would've given the ensemble a little extra sparkle. But that choice wasn't a big deal.
[In confessional] If I wanted to be a bitch, I could've said Loosey. But I gave my perfect pageant answer and said I would send Sasha home. So for once, I'm patting myself on the back for being in my congenial era.

Mistress Isabelle Brooks
It was too obvious that the judges wanted Loosey at the bottom (and to send her home this episode).
Come on, they were so focused on all her small details, even picking apart the nervousness/chemistry from her teacher on the runway. Sometimes Drag Race can't hide their production meddling; they had a plan in mind. It ruins the suspense of who will be at the top or bottom.
The real shock was Sasha Colby only being safe. How did she not win?!
Sasha Colby and Ferocity Colby looked so much like a family!
The pink tropical dresses were stunning, their makeup was flawless, and the padding looked so natural and sexy. And once again, the pair had the best family resemblance out of all the queens.
Sasha should've won this week. It's baffling she didn't get it when she hit it out of the park.
Anetra winning the Maxi Challenge wasn't terrible by any means. She and Alektra had a great family resemblance; they easily were in the top half based on all the pairings.
Anetra's makeup application was stunning as she captured her drag style on Alektra. And the pink and black bodysuits (with the uncut arm sleeve) were designed well.
We need to give her kudos for solving the secret part of this challenge, which is that the judges love whenever queens mirror every element on their drag partner.
Anetra gave Alektra her exact look right down to the bodysuit. It's a smart move that has worked before; she did a great job, even though Sasha's was much stronger.
Though, when it came to weird choices, it's baffling that Mistress Isabelle Brooks didn't get a single negative critique from the judges.
How did they not comment on Madam Thang's makeup? Or the simple stretch dress with the large boas and kitten heels?
Granted, if we have to, we can look past the dresses as they needed to be constructed, but the makeup was off. Either she didn't use the correct shade or applied it too much, but the look didn't blend.
It was very noticeable that the makeup stood out on Madam's face. Not having the judges critique these things felt like a strange miss.
In Luxx's case, she arguably did have the worse family resemblance.
I agreed that nothing between her and Asia Azul had cohesion. Sure, there were the touches of peach and blue, and the dress fabric was a nice silk material, but that's where the mirroring ended.
She would've done better had she matched the hair, the makeup, and the dress silhouettes. Even the dress styles between her and Asia were too different.
[In confessional] Listen, I said it and I meant it. Loosey's drag is more on the generic side.

Luxx Noir London
One of the traps for makeover challenges is not to stand out too much. Both queens have to match, and if there's one queen who gets to have the star moment, it's always the drag guest.
It felt like Luxx designed her look to have that moment. When Asia had the more subdued ensemble with the cape and the blue color, I agreed that it sealed Luxx's fate for a bottom placement.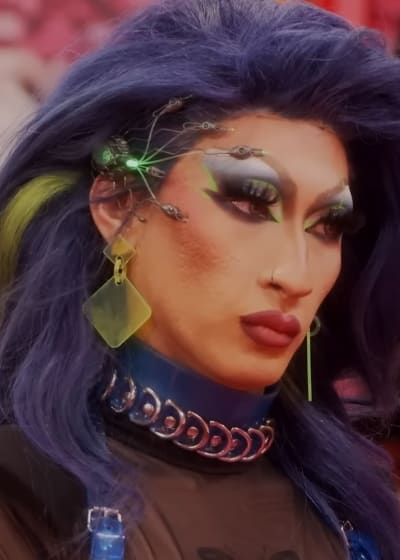 Though, she ate up her lip-sync against Loosey to "For The Girls" by Hayley Kiyoko.
She didn't even need to serve it as hard as she did; we can all agree that it was Loosey's time to go based on her recent performances and the vibes from the judges. Still, I'm glad Luxx brought it to the runway.
She showed yet again that she could deliver a strong lip-sync and knock out a queen when given a chance. Her hair flips and floor-sweeping were on a machine to win it all.
Oh, it's unanimous. Shady, hairy, and a thief.

RuPaul
Loosey tried her best by focusing on the lyrics, but her cartwheel needs serious work. For a stunt to work, it must be clean and even; that cartwheel was messy.
It didn't help her case more than it could have.
Last Thoughts From The Werk Room:
Who do you think won the walk-off between LaLa and Madam? It seemed like a close race; I'd tip the scales to LaLa here.
 
The elimination question would've had more weight had the queens not been asked who should go home in the previous round. These two questions should be spaced out farther from each other.
 
Norvina should come back again for Spill The T. She seemed to have a lot of fun having her Vanna White moment.
 
Michelle Visage wasn't having any of Hayley Kiyoko disagreeing with her. She tried to justify it, but she was having none of it.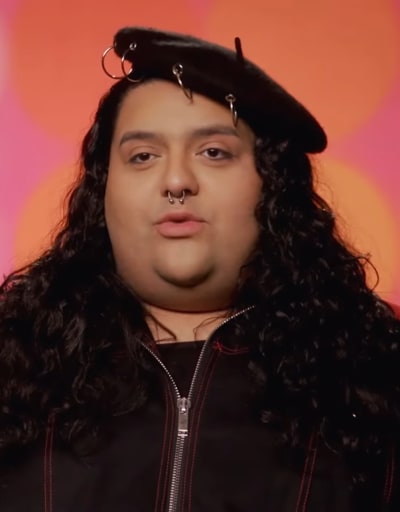 Now, over to you, Drag Race fans.
What did you think of "Teacher Makeovers"?
Are you sad to see Loosey LaDuca go? Which pairing do you think had the best family resemblance? Did you disagree with any of the answers from Spill The T?
Share your thoughts in the comments below.
Justin Carreiro is a staff writer for TV Fanatic. Follow him on Twitter.