Savannah Chrisley is not happy with radio host Bobby Bones after comments he made about her parents, Todd and Julie Chrisley, and has called him out to speak to her face to face.
"So… @mrbobbybones – if you'd like to discuss my family and the case then let's sit down and do it accurately," Savannah wrote on a recent Instagram Story. "Yes – BOTH of my parents are incarcerated. That would be one thing that you are correct on. BUT Studies estimate that between 4-6% of people incarcerated in US prisons are actually innocent."
The post stemmed from remarks Bones made on the February 7 episode of The Bobby Bones Show, when he talked about Todd and Julie's legal troubles. The reality stars were convicted of bank and tax fraud last year and sentenced to a combined 19 years in prison.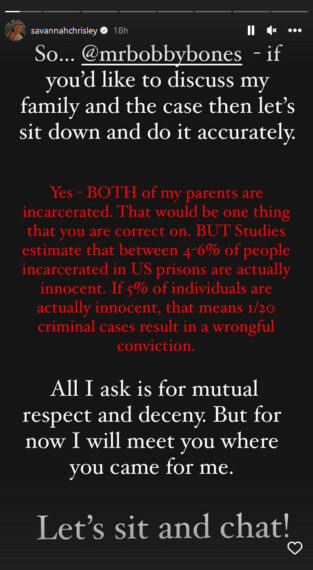 Savannah Chrisley Instagram
"Once somebody is convicted and found guilty, you can kind of go, 'Well, they are guilty of this,'" Bones said (via EOnline) before adding, "If it comes out and turns out they didn't do this, I will gladly go on air and eat my crow."
"But there's really no crow," he continued. "I just didn't understand it."
This isn't the first time Savannah has blasted The Bobby Bones Show, as pointed out by the show's digital director, Morgan Huelsman. According to Huelsman, Savannah once commented about the radio show on Instagram, writing, "Very inaccurate information. Better described as a facility that should be condemned. Also laughter at the expense of others isn't the greatest look on you.'"
That particular comment was regarding the facilities where Todd and Julie are incarcerated, which some critics felt resembled hotels more than prisons. Todd is serving 12 years at FPC Pensacola in Florida, while Julie is serving seven years in Lexington, Kentucky, at Federal Medical Center Lexington.
"There is no laughter at the expense of others," Bones said. "There was laughter on if that prison is that fancy. And also, expense of others? He went to jail for stealing money."
Savannah concluded her post saying, "All I ask for is mutual respect and decency. But for now I will meet you where you came for me. Let's sit and chat!"