The Goldbergs is staying true to its throwback format with the inclusion of upcoming guest star Steve Guttenberg, who is bringing a touch of Three Men and a Baby to the ABC comedy.
Set to reprise his role as Dr. Katman in the '80s-set sitcom, Guttenberg helps recreate Three Men and a Baby's iconic "Goodnight Sweetheart" scene alongside Barry (Troy Gentile) and Geoff (Sam Lerner) in a special preview clip, above. The episode, which will air on Wednesday, January 11, is titled "Blade Runner: The Musical."
As fans of the 1987 cult film may recall, Guttenberg sang the song alongside costars Tom Selleck and Ted Danson.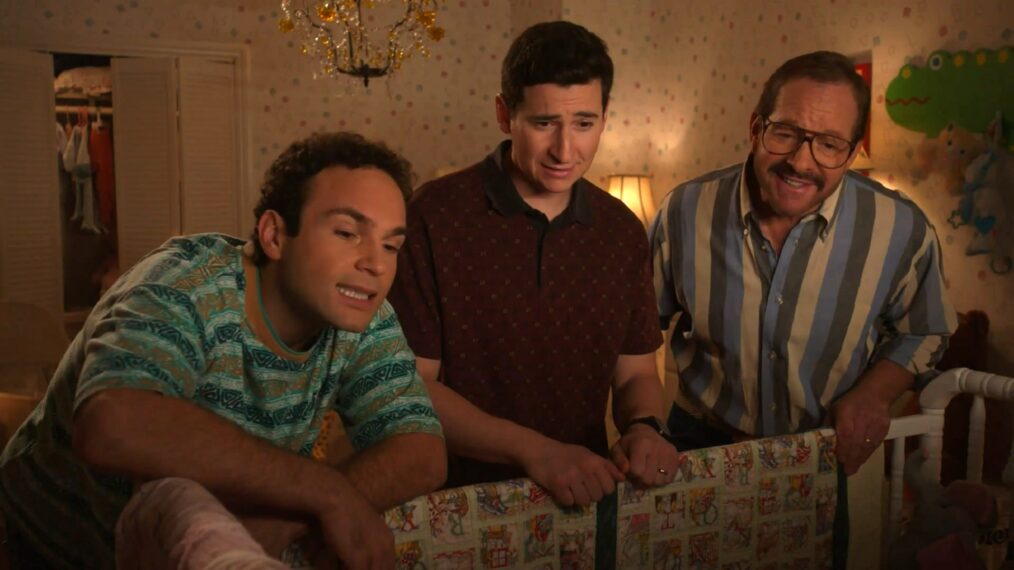 (Credit: ABC)
The midseason premiere installment sees Adam's (Sean Giambrone) creative funk revitalized after a new job, but in turn, that creates tension between the aspiring filmmaker and mom Beverly (Wendi McLendon-Covey). As for Geoff, he's struggling to relate to the JTP as a young father, leading to the scene, above.
In the episode, Dr. Katman visits the Goldbergs' home to help the men of the house get baby Muriel to sleep, creating a "three men and a baby" scenario of sorts. As seen in the clip, Barry and Geoff appear gobsmacked by Dr. Katman's methods but quickly fall into line by singing the 195os tune written by Calvin Carter and James "Pookie" Hudson.
This will be Guttenberg's first appearance on The Goldbergs since Season 8's installment, "Cocoon," which aired in 2021. The comedian made his debut as the character during Season 6 and appeared in additional episodes from Season 7. Don't miss the sweet segment and check out the fun clip, above.
The Goldbergs, Midseason premiere, Wednesday, January 11, 8:30/7:30c, ABC