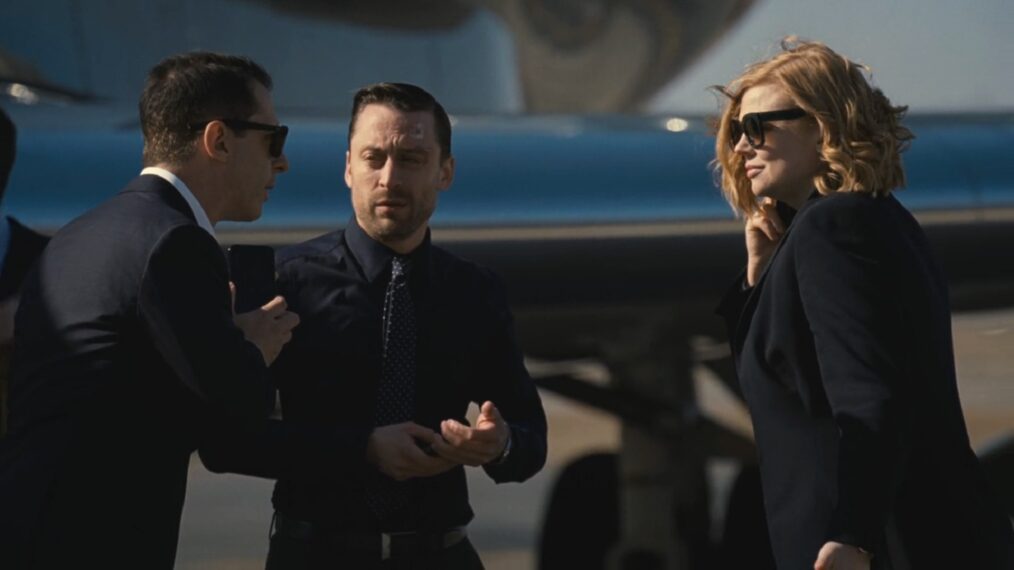 [Warning: The below contains MAJOR spoilers for Succession Season 4, Episode 10, "With Open Eyes."]
After a rollercoaster fourth season, Succession finally closed the curtain on the Roy family's fascinating story, answering the long-lingering question, which was, who would take over for Logan (Brian Cox), especially following his death earlier in the season.
Well, it would seem that Season 2's "thank you for the chicken" scene between the late patriarch and his son-in-law would have a greater symbolic resonance than anyone may have anticipated because it was Tom Wambsgans (Matthew Macfadyen) who came out on top. While the episode began with Shiv (Sarah Snook) believing she'd be named CEO following Matsson's (Alexander Skarsgård) acquisition of Waystar, which ultimately did go through, she learned partway through the episode that the Gojo lead had a different boss in mind than her.
(Credit: David M. Russell/HBO)
It wasn't until a family gathering at Logan's house, where Connor (Alan Ruck) and Willa (Justin Lupe) were having loved ones select items they may want to keep before they begin renovating, that Shiv discovered it was Tom who was being considered for the head position. Resolving to fight against Matsson in retaliation for being shut out, Shiv reteams with her brothers Kendall (Jeremy Strong) and Roman (Kieran Culkin).
In order to squash the deal, they'd have to present a united front and select one person to take over. After a lot of debating, and begging on his part, Kendall was selected to lead. It's unclear if it was his sitting in Logan's chair or a passing comment that made Shiv change her mind at the last minute, but when the votes came to a tie, leaving her to determine if Waystar would go to Matsson or stay with the Roy family, she selected Matsson.
(Credit: HBO)
Her choice led to an intense sibling battle in a separate conference room where Kendall made it clear how desperate he was to take over Logan's spot, but she had decided he'd be no good at it, and so her vote handed the position to Tom. Shiv's life-altering choice also made way for an answer surrounding her and Tom's relationship.
In the final moment, we see Tom leave the Waystar building and Shiv is in his car, where they hold hands in a very weak and lifeless-looking manner. If her father could not hold the seat any longer and her attempts to take over were futile, was Tom the next-best option? If so, there's no celebration to be had as the series ended on a pretty bleak note for most, particularly Kendall who previously seemed poised for the top spot.
Also winning alongside Tom is his "disgusting brother" in arms, cousin Greg (Nicholas Braun) and Gerri (J. Smith-Cameron). Seemingly helping his cousins at the beginning of the episode, Greg played both sides of the fence in this final installment. But it was Tom's loyalty to keeping him on board that secured his position at Waystar following the Gojo acquisition. And despite being fired twice in one season, Gerri managed to squeak out a high-up position.
And just like that, Logan's empire slipped through his children's fingers. What did you think of the ending? Let us know in the comments section, below, and relive every wild moment from the series by streaming it anytime on Max.
Succession, Streaming now, Max