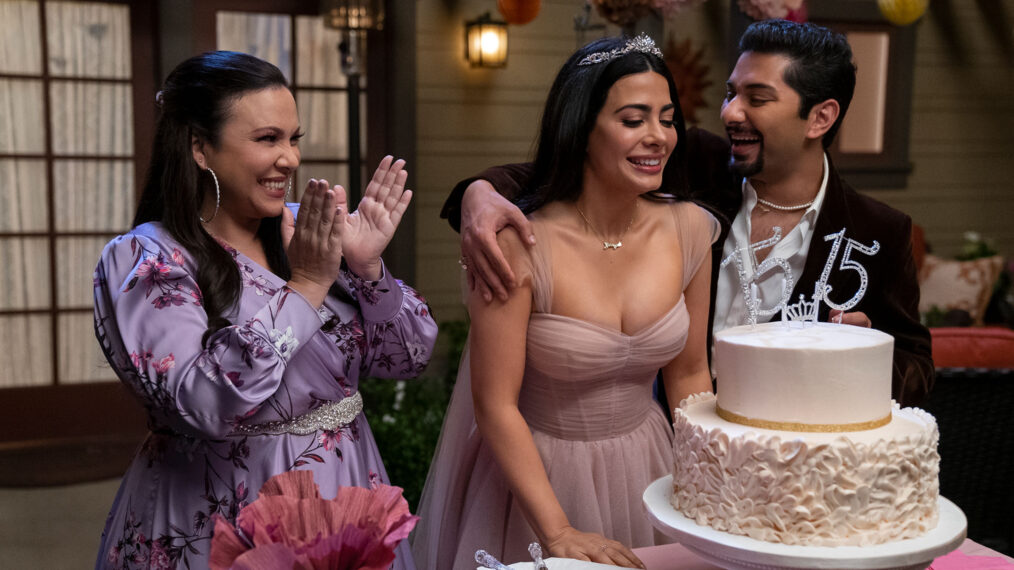 Wedding bells will ring in Season 2 of With Love, a heartfelt family dramedy about Portland, Oregon's close-knit Diaz family. But before they toll, it'll be another roller-coaster ride!
Season 1 ended with a cliffhanger at the clan's Nochebuena — Christmas Eve — celebration, when Abuela Marta (Renée Victor) found an engagement ring on the floor. This season picks up 12 hours earlier, and by the first episode's end, we'll find out who'll get hitched.
Will it be fun-loving eldest child Lily (Emeraude Toubia) and her cerebral love Santiago (Rome Flynn)? Her wisecracking brother Jorge Jr. (Mark Indelicato) and his dreamy beau Henry (Vincent Rodriguez III)? Or caring oncologist Sol (Isis King) and fellow doc Miles (Todd Grinnell)?
(Credit: Kevin Estrada/Prime Video)
Toubia warns, "There's one couple that's going to be crazy in love and happy, and [another will] be shattered and going separate ways."
Jorge and Henry's bond, she says, "could get complicated," especially when Henry's proud Texas parents pay a visit. Girls5eva's Busy Philipps pops up as Miles' ex and the mom of nonbinary teen Charlie (Birdie Silverstein, Philipps' child).
New episodes will revolve around "key life events" like Lily turning 30 and an eventful wedding that will bring "another huge cliffhanger," Toubia notes. Drama is ever-present for the Diaz clan, but so is their true, abiding love for one another.
With Love, New Season, Friday, June 2, Prime Video
This is an excerpt from TV Insider's June issue. For more in-depth, reported coverage devoted to streaming shows from the publishers of TV Guide Magazine, pick up the issue, currently on newsstands or purchase it online here. You can also subscribe to TV Insider Magazine here now.