Could a Dutton have a Dutton killed in the second half of Yellowstone Season 5?
The first part ended with Jamie (Wes Bentley) calling for a vote to impeach John (Kevin Costner), and when Beth (Kelly Reilly) confronted him, he dropped the train station bombshell on her. And now knowing that she'll plan to have him killed — Beth does bring up dropping off Jamie at the train station to John — Jamie is now planning to do the same.
Bentley takes us inside where Jamie's head is.
Jamie's decision to try to have Beth killed — why? Is it just because he knows that she's gonna do the same thing?
Wes Bentley: I think so. That's where it felt like it was coming from playing Jamie. He's a chess player, so he's three moves ahead. He's thought it through a hundred times. He knows making that impeachment speech, making that move, means they will try to kill him somewhere down the line. So I think he has already researched and tried to understand if he could even do that through Market Equities, and I think he would know that already. So as much as he's being used, this is the moment we maybe see Jamie has been planning to use them as well.
Does he actually want Beth dead?
I don't think Jamie wanted anybody necessarily dead. You could argue besides the reporter — there's a desire for her to be dead because of the information, so that's the only time I could see that. I don't think he wanted to kill his own father. I don't know if that's in him, but the hatred for her is there, it might be enough. It certainly felt like that to me, but it also felt more like a necessity, like this has to happen. She says something at the end of that fight where he says, "It's over, Beth," and she goes, "No, Jamie, it's not." He knows what that means. That's his cue to make that move he was waiting for.
He does know that if he truly went after Beth, that Rip (Cole Hauser) would kill him, right?
Yes. I think Jamie's accepted that he's dead anyway, that this has been coming and it's only been put off because he was useful. Well, now he's not useful anymore. In fact, he is now the thing in the way, the challenge, the enemy — "I'm the one trying to come for the land" — and you know what happens to people when they come for the land and try to leave the family. Jamie's not branded, but that's doesn't mean he's safe from that. So Jamie knows who and what — and Beth has told him who's gonna kill him anyway — so he's been threatened so much that it's just like he's accepted his fate in a way. Now he's thinking about his son.
He'd be better off going after Beth and Rip at the same time then.
I'm not as smart as him in that way, the chess player he is, but I would say, yeah, I would think the smart play would be everyone at once, like was attempted on them before. Taylor [Sheridan]'s writing always surprises me, it's always smart the way he wants to go about that. I can't wait to find out, to be honest.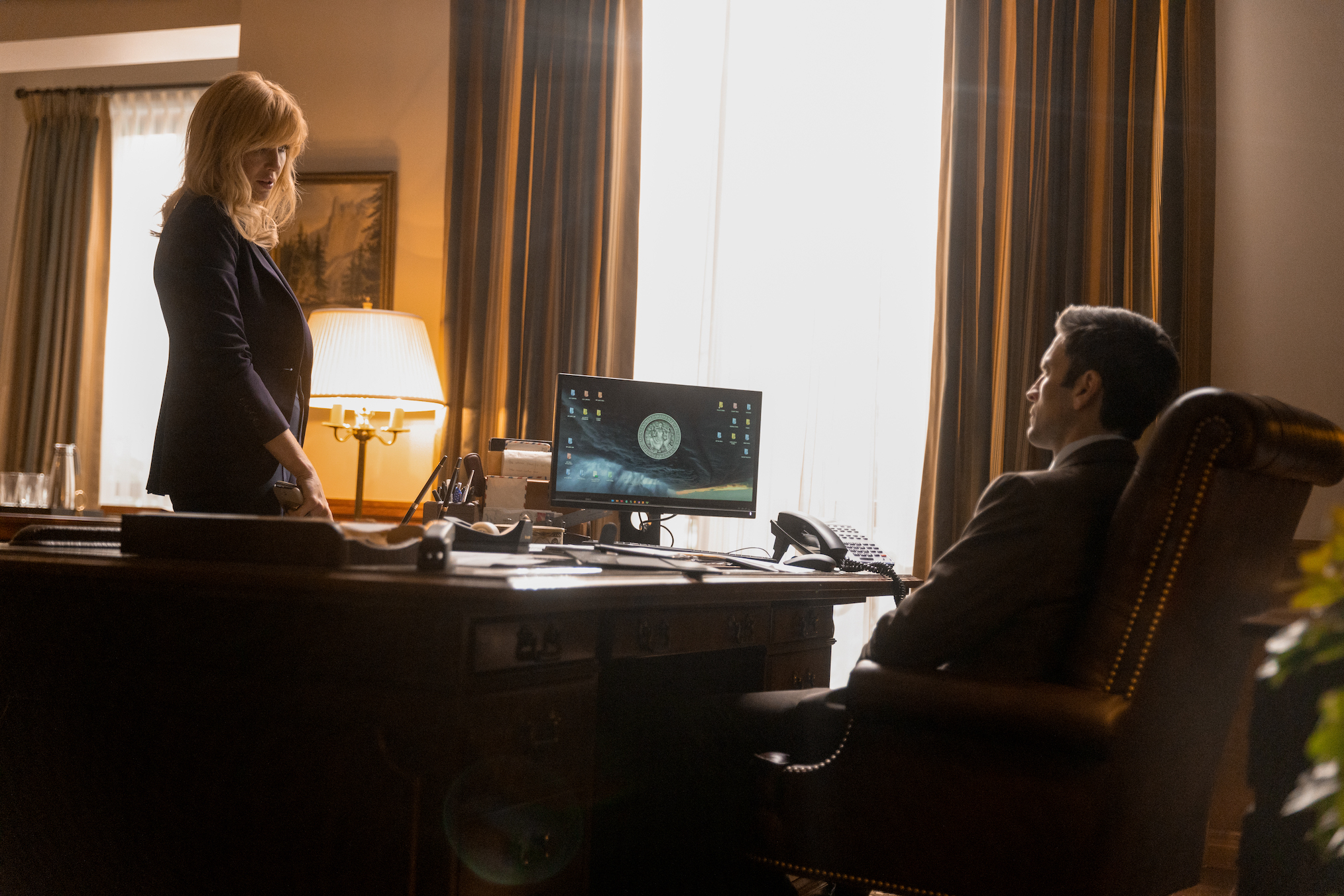 Paramount Network
How does he feel about Sarah and how much does he trust her? It feels like she's just using him.
Yeah, and he's onto it a bit and I think her denial of it is not totally moving. It was well acted. He still doesn't know, right? This is that moment he's been waiting for: "This is my move. These are my people. I maybe fit in this world more than I think." He's attracted to her power as much as something about her is attractive to him. I think genuinely her power is really attractive to him. She is directing this wild energy James always had. When he flails when it comes time to do something, she's pointing that energy at the direction that he wants and she wants, and it's the Duttons and Beth and John in particular.
He has a way around Beth's blackmail, with his knowledge of the train station. Was he just biding his time to bring it up at the right point?
He thought she knew that because we see in that fight that he's surprised that she didn't know about the train station, which is this just power moment for Jamie: "I'm free of you. I know the big thing. And they won't tell you the big thing." I think before he had to play it safe because if she knows that, what is she doing? It sort of put him off like, "What is this play she's trying to do? She knows about this, right? I know about this and I know the legalities and the ins and outs and they're not totally safe. And does she not know that?"
So he'd expected her to have a plan for it.
Yeah, he's been sitting back worried. For the first time, he thinks Beth has a smarter plan than him and he is really like, OK, what are you to do in this moment? You wait for them to make the move because if you make a move, it could be the wrong one. So you wait and wait and wait and then that's revealed in that moment after he's made the impeachment move. It's all these games and bam, he is free of it. That's the moment that's most dangerous for Beth, that reveal that Jamie is free of that grip, of feeling always like he's the one on the outs and that she had some knowledge he didn't. Well, the truth is he did and he still does. She doesn't know how legal it would be or not because of many things maybe we'll find out about later.
Is there anything that John could have done once he was in office to keep Jamie from trying to impeach him?
Listen to him. [Laughs]
Besides that, because I don't think John will ever listen to Jamie. He has that line about how he only has one son, which was heartbreaking.
But it's true and it was always true. John never loved Jamie and never was going to love Jamie. Who knows if we find out more about that, why to the degree he doesn't love Jamie, but Jamie already knows that. That's revealing for the audience or hit a big hit for the audience, but Jamie saw that last season and all the things he had to do and to step in front of him as the governor. There's no care for what Jamie wanted ever. So he's been there.
Paramount Network
How does Jamie feel heading into the second half of the season, about his political standing, Market Equities, and the Duttons? There's Kayce (Luke Grimes) to consider…
Jamie's gone down the dark road and I think he is only going to have to assume that Kayce can keep his family safe in the middle of all this because he's a rat in a cage. He was stuck and so this is his only way out. I think he's feeling like he's in a position of power because of the knowledge he had over Beth and the move made for the impeachment. It really is working and it really is feeling like what his goal is might succeed, which is to leave it to his son. Maybe he'll succeed because it feels like he's gaining some traction, which he's never had before.
So he does truly care about the ranch when it comes to at least his future generation, because he brings up Tate (Brecken Merrill), too. But does he really care about Tate and the ranch?
I don't know, but it seems like he does. The only people he cares about that are left are probably children. I think he genuinely does want the best for the future. I do think that was a genuine moment of him saying that's what I promised to do was uphold the ranch, not John, and that's what John said he would do. And so that's what the fight's supposed to be about.
What could make Jamie back off Beth and John? Anything? He's made some moves he can't take back.
No, he's playing the endgame. That's the chess reference here. Once you make that move for the king, you've revealed what your plans were and you've also opened up yourself to attack. So that's where he is at. He has to end the game or the game is over for him and his goal.
Jamie wouldn't be surprised it seems like John may be approving sending him to the train station based on that conversation between John and Beth, right?
I don't think Jamie would be surprised at all. What's that term? Shocking, but not surprising. That's Jamie's constant feeling now, but he is becoming numb to it and he's growing a spine to it. He's getting his power and standing up to it face-to-face and knowing that the outcome is probably that I go down, a stalemate, that we both go down, but we go down together.
Is there anyone that he trusts?
No.
That's kind of sad.
Yeah, but who would you trust? If you look at it even from outside of where I am looking at it, why would Jamie trust anyone? Yeah, it's sad. That's the thing that permeates, as I play him, and the thing that is the biggest challenge of playing him is playing with that sadness.
If the family offered to welcome him in, would he accept it?
I don't think he could trust it. Now I think he has to go for it because if he lets down his guard, what does that mean? Taylor could surprise us, by the way. I've always been wrong. [Laughs] But my feeling from my perspective is he can't. There's no way you go back now. This is the end. You're playing for the end of the game and sacrifice and all that stuff.
Yellowstone, Returns, Summer 2023, Paramount Network