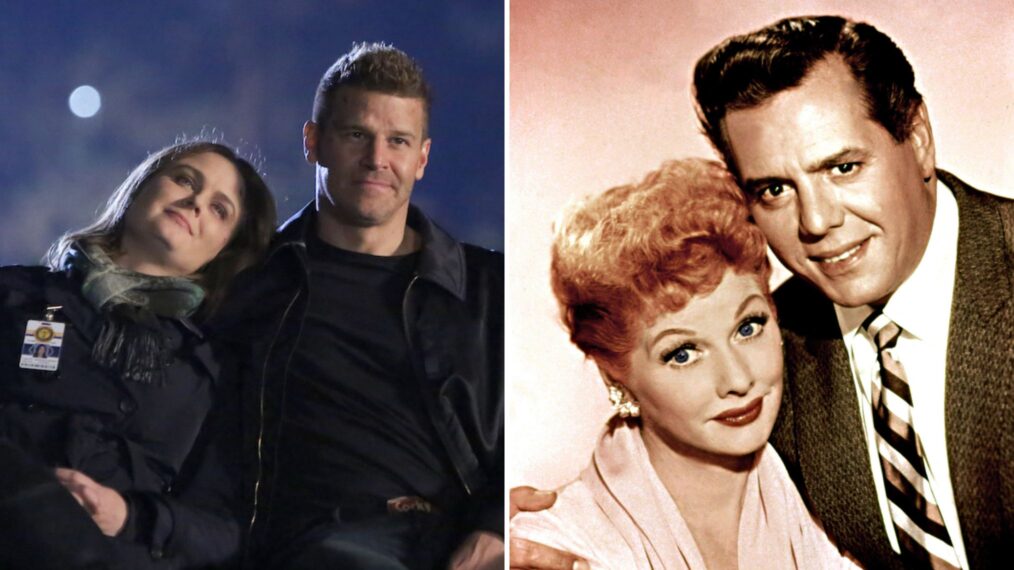 In honor of March Madness, the annual NCAA college basketball tournament which climaxes with the men's final next Monday (April 3), we here at TV Insider decided to put together a TV-themed bracket. And what better way to leave you making the tough choices than by having you choose between some of the most popular couples over the years?
Our bracket began with 32 couples, from shows from the past such as The Brady Bunch and I Love Lucy; the '90s like ER, The X-Files, and Friends; popular triangles like Buffy the Vampire Slayer and Dawson's Creek; and ones still on now like NCIS: Los Angeles and Outlander. We had comedies (The Office, Schitt's Creek, and Modern Family), dramas (Friday Night Lights, This Is Us, and Grey's Anatomy), and sci-fi/fantasy (The Flash and The Walking Dead).
Those 32 then competed across five rounds. And the Final Four were: ER's Dr. Doug Ross (George Clooney) and Nurse Carol Hathaway (Julianna Margulies) facing off against Bones' Dr. Temperance Brennan (Emily Deschanel) and FBI Special Agent Seeley Booth (David Boreanaz), and Modern Family's Mitch Pritchett (Jesse Tyler Ferguson) and Cam Tucker (Eric Stonestreet) against I Love Lucy's Lucy (Lucille Ball) and Ricky Ricardo (Desi Arnaz).
And after thousands of votes and a very close final round, the winner is…
I Love Lucy's Lucy and Ricky Ricardo!
The couple, who were on our TV screens for six seasons starting back in 1951, went head-to-head with Bones' Brennan and Booth, and it was a very close win. But Lucy and Ricky won with 51.1 percent of the vote.
So how did the I Love Lucy pair make it to that last round and ultimately end up victorious? They first faced off against The Brady Bunch's Carol (Florence Henderson) and Mike (Robert Reed), winning that round with 65 percent. Then came Fresh Prince of Bel-Air's Uncle Phil (James Avery) and Aunt Viv (Daphne Reid), and Lucy and Ricky won with 79 percent. Then, they received 63 percent of the vote facing off against Cheers' Diane Chambers (Shelley Long) and Sam Malone (Ted Danson). And before the final round, going against Modern Family's Mitch and Cam, the I Love Lucy couple emerged with 65 percent of the vote.