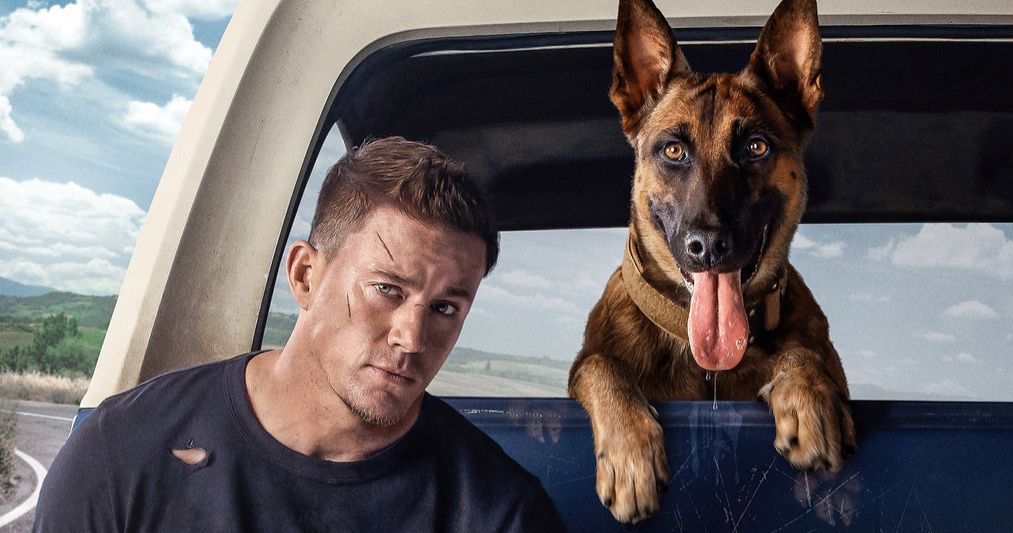 Directing and starring, Channing Tatum and a war-torn dog are going to force us to break out the tissues in between giggles.
MGM Studios has just released the trailer for Dog, a film that tells the story of an unlikely pair forced on a road trip together headed for a fellow soldier's funeral. They loathe each other; there is a definite lack of communication. Can they find a way to work together and and work things out? You might need the tissues even for the trailer.
The official synopsis reads, "Dog is a buddy comedy that follows the misadventures of two former Army Rangers paired against their will on the road trip of a lifetime. Army Ranger Briggs (Channing Tatum) and Lulu (a Belgian Malinois dog) buckle into a 1984 Ford Bronco and race down the Pacific Coast in hopes of making it to a fellow soldier's funeral on time. Along the way, they'll drive each other completely crazy, break a small handful of laws, narrowly evade death, and learn to let down their guards in order to have a fighting chance of finding happiness."
MOVIEWEB VIDEO OF THE DAY
Writer and director Reid Carolin (Magic Mike) and Channing Tatum have teamed up again to bring the laughs, the awwws, and, of course, the tears in a film that involves bringing a beloved but misunderstood K-9 war hero back to the States by a less than gentle companion. You've seen those reunion videos; you have to excuse yourself if you accidentally view one at the office! Thank goodness they break up the tearjerker with some comedy relief! Joining the cast are Jane Adams, Kevin Nash, Q'orianka Kilcher, Ethan Suplee, Emmy Raver-Lampman, Nicole LaLiberté, Luke Forbes, and Ronnie Gene Blevins.
Tatum has been a busy man. Dog hits the theaters in February, and in March you can see him Lost City of D. starring with Sandra Bullock, Daniel Radcliffe, Oscar Nunez, Patti Harrison and a cameo appearance by Brad Pitt, The synopsis reads, "​​A reclusive romance novelist on a book tour with her cover model gets swept up in kidnapping attempt that lands them both in a cutthroat jungle adventure." The movie is directed by Adam and Aaron Nee, and produced by Bullock along with Seth Gordon, better known as the director of Horrible Bosses and The King of Kong: A Fistful of Quarters.
He's currently working opposite Naomi Ackie on Zoë Kravitz's directorial debut film Pussy Island. The thriller tells the story of "Frida, a young, clever, Los Angeles cocktail waitress who has her eyes set on the prize: philanthropist and tech mogul Slater King (Channing Tatum). When she skillfully maneuvers her way into King's inner circle and ultimately an intimate gathering on his private island, she is ready for a journey of a lifetime. Despite the epic setting, beautiful people, ever-flowing champagne and late-night dance parties, Frida can sense that there's more to this island than meets the eye. Something she can't quite put her finger on. Something terrifying." The film was written by Kravitz and E.T. Feigenbaum. Keep 'em coming, Mr. Tatum! See Dog only in movie theaters this February.
Keanu Reeves is Open to Returning for Speed 3 with Sandra Bullock
Keanu Reeves never thought he'd do another Matrix movie and now he can't say he'd never do Speed 3.
Read Next
About The Author Brandy Lynn Sebren (510 Articles Published)
I'm the one that speaks in random movie dialogue. I almost always miss contact on high-fives. For years, I have been writing, speaking at length, and thanking the gods that my shocking encyclopedic knowledge of music, film and TV has proven valuable. Most commonly asked question? "Why do you know that?"